The Year of Bergman – 'It is finished'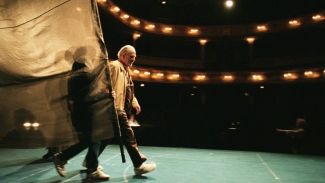 Thank you, one and all! 

Together we turned 2018 into a fantastic year celebrating the Ingmar Bergman centennial.
'It is finished.' It may seem peculiar at this particular time of year, as many celebrate the memory of Jesus' birth, to use his last words to summarise the Year of Bergman. But why not? The story of Jesus also had a happy ending. And as is common knowledge (at least, surely, for those who are reading this) the same words are not only quoted in John 19:30 but also in The Seventh Seal.
2018 has been an outstanding year. Ingmar Bergman's masterful work has been celebrated in nearly 100 countries on all the world's continents. Thousands of film screenings, theatrical plays, dance performances, book publications, exhibitions, conferences, lectures and much much more were organised, with a magnitude and enthusiasm exceeding all expectations.
'We are all born to play our parts,' grandmother Helena Ekdahl explains in Fanny and Alexander. 'Some of us play them sloppily, and others with tremendous style. I am of the second sort.' The Bergman jubilee has now played its part – with tremendous style. The Year of Bergman has come to an end, it is finished, but Bergman's art will live on for a long time to come.
- Jan Holmberg, CEO Ingmar Bergman Foundation

Such an extensive catalogue of events have been held this year that a short summary simply would not suffice. The Ingmar Bergman Foundation is currently compiling a thorough chronical of the Year of Bergman. In the meantime, please visit the online calendar, where many of the events are listed: www.ingmarbergman.se/en/calendar