The Bacchae
This collaboration between Ingmar Bergman and the composer Daniel Börtz on an opera version of Euripides' play came about at Bergman's behest.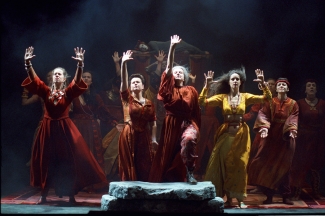 '...An exploration of the feminine, and underneath that, the feminine in man, which cannot be suppressed unpunished.'
About the production
The libretto for the opera is based on Euripides' play The Bacchae. The original text was re-worked, and the bacchae themselves became the focus of the action. Bergman wrote an account of the previous history of the various women, which was printed in the Royal Swedish Opera programme. Instead of an anonymous group, Bergman turned the women into individuals who each behave and perform in an individual way. In other words, the group was an individualised collective, portrayed by carefully selected soloists. Bergman made an addition, creating a 14th baccha, Talatta, a non-speaking dance role performed by Marianne Orlando. Talatta functioned as the dynamic doppelganger for Dionysus. The performance was a huge success. 

The opera The Bacchae was produced for three media. In addition to the opera performances, there was also a television version, and the record company Caprice turned the television soundtrack into a double CD. In addition, Bergman subsequently staged a pure theatre version of Euripides' drama.
Sources
The Ingmar Bergman Archives.
Henrik Sjögren, Lek och raseri, Ingmar Bergmans teater 1938-2002, ( Stockholm: Carlsson Bokfölag, 2002).
Collaborators
Sylvia Lindenstrand

, Dionysos

Laila Andersson-Palme

, Teiresias

Sten Wahlund

, Kadmos

Peter Mattei

, Pentheus

Anita Soldh

, Agaue

Berit Lindholm

, Alfa

Paula Hoffman

, Beta

Camilla Staern

, Gamma

Ellen Andreassen

, Delta

Anne-Marie Mühle

, Zeta

Kristina Hammarström

, Eta

Anna Tomson

, Theta

Eva Österberg

, Lambda

Carina Morling

, Xi

Amelie Fleetwood

, Rho

Lena Hoel

, Sigma

Helena Ströberg

, Tau

Ingrid Tobiasson

, Omega

Marianne Orlando

, (unknown part)

Carl-Magnus Dellow

, The soldier

Per Mattsson

, The shepherd

Peter Stormare

, The messenger

Kicki Bramberg
Kjell Ingebretsen

, Conductor

Ulla Åberg

, Dramaturgy

Bengt Wanselius

, Stills photographer

Euripides

, Author

Göran Österberg

, Stage manager

Sylvia Ingemarsson

, Editing (TV version)

Donya Feuer

, Choreography

Thebanska gråterskor ur Kungliga Teaterns kör

, Choir

Daniel Börtz

, Music

Kungliga hovkapellet

, Orchestra

Katarina Sjöberg

, Producer

Ingmar Bergman

, Director

Irene Frykholm

, Assistant director

Lennart Mörk

, Designer

Anna Bergman

, Assistant designer

Göran O Eriksson

, Translation

Jan Stolpe

, Translation