The Crown Bride
The focus is more on 'crime and punishment, guilt and reconciliation with the polar opposites evil and redemption, hell and heaven' than serving as a nationalistic neo-romanticism, when Bergman stages Strindberg's play from 1901.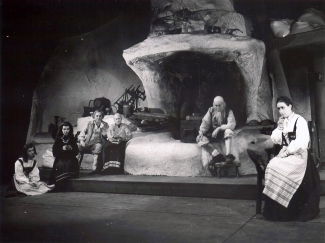 'We are considerably closer to the sulphurous lakes of hell than to the glittering waters of Lake Siljan.'

Nils Beyer, Morgon-Tidningen
About the production
Strindberg's play, written in 1901, was following in the tracks of national neo-romanticism, a cultural movement that characterized Swedish painting and literature at the time. Bergman toned down some elements of the pastoral and picturesque within the play and 'demonised' it. He replaced the emblem of Christian love, embodied in the figure of the 'white child, with a diabolic creature wreaking havoc amidst the performers during a wedding dance'.
Some crucial scenes in the director's copy are named: Murderous thoughts, tension, sacrifice completed. The most interesting part is Bergman's description of the ending, using a distinct visual language and a fade-out reminiscent of one of his own B/W films. 
The moment of ecstasy dies down and the brisk, grey, wintry spring morning dawns with driving clouds and an approaching storm. The crucifix darkens to a silhouette and people leave, carrying the dead woman. They disappear far away, extinguished torches.
Sources
The Ingmar Bergman Archives.
Henrik Sjögren, Ingmar Bergman på teatern, (Stockholm: Almqvist & Wiksell, 1968).
Henrik Sjögren wrote:
For the first time, the enormous potential of Malmö City Theatre's stage was utilised. Before our astonished eyes, Bergman opened it up to present a brilliant play with the theatre's unique resources, a particular combination of intimacy and space.  
Collaborators
Rune Turesson

, Mats

Karin Kavli

, Kersti

Jullan Kindahl
Oscar Ljung

, The soldier

Berit Gustafsson

, Brita Welamsson

Anders Frithiof

, The grandfather

Frans Oscar Öberg

, The father

Dagmar Bentzen

, The mother

Alfhild Degerberg

, The grandmother

Gun Arvidsson

, Anna

Åke Fridell

, The policeman

Arnold Sjöstrand

, The priest

Paul Höglund
Sven-Eric Gamble

, The fisherman

Ernst-Hugo Järegård

, The executioner

August Strindberg

, Author

Carl-Gustaf Kruuse

, Choreography

Ingmar Bergman

, Director

Per Falk

, Designer