Naima Wifstrand
Great character actress and singer with an impressive resume who made numerous apperances in Bergman's films over the last 15 years of her career.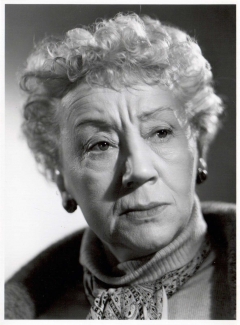 Naima Wifstrand
Great character actress and singer with an impressive resume who made numerous apperances in Bergman's films over the last 15 years of her career.
About Wifstrand
Born Siri Naima Matilda Wifstrand i Stockholm on 4 september 1890, Wifstrand was raised by her single mother. Her stage debut came at the young age of 15 at Uppsala Theatre, and the following year she performed in the choir during the opening night at the Oscar Theatre in Stockholm. In 1908 she joined a travelling musical company and toured with them for a number of years, until moving to London in 1910 to attend voice and music lessons.
After completing her studies in London, Wifstrand returned to Sweden and was hired at the Oscar Theatre between 1914-18, where she swiftly assumed the role of the theatre's prima donna, performing in major operetta productions such as The Riviera Girl. Up until the 1920s, Wifstrand maintained her position as Scandinavia's operetta queen, performing in Stockholm, Copenhagen and Oslo. She eventually got her fill of the operatic life and in 1924, Knut Ström convinced her to try her hand at dramatic theatre at the Lorensberg Theatre in Gothenburg. For a number of years she was cast in speaking roles, as her singing voice had been known to fail her from time to time.

During the 1930s, Wifstrand took on more and more speaking roles to prove her dramatic talent as an actress. Initially forced to fight tooth and nail for parts, her talent was eventually acknowledged. During his time in Sweden, Bertolt Brecht wrote Mother Courage for her. And surprisingly, both Wifstrand and Brecht were present when Ingmar Bergman, then a 21-year-old director new on the scene, staged Lucky Per's Journey in Stockholm's Old Town.
In 1930, Wifstrand began performing in pantomine clothing and singing her own songs, so-called Pierrot-visor (pantomime melodies). She also made a short film during this time entitled Pierrot Smiles, Pierrot Cries. In 1932, Wifstrand lived in London, where four years previously she had acted at Cafe de Paris. She put on evening concerts and was the first Swedish artist to perform on television in a number of operetta roles. 
From the 1940s through the 1960s, Wifstrand was considered one of the leading older actress, and in the 1950s she was offered a permanent position at the Malmö City Theatre. She also came to play her best stage roles in her later years, including the grandmother in Hjalmar Bergman's Grandmother and Our Lord, and under Ingmar Bergman's direction as Mother Earth in The Crown Bride and the mummy in The Ghost Sonata. Her more important film roles first came in the late 1940s, playing Sigrid Malm in Livet i Finnskogarna and Hulda in Kvinnan gör mig galen. The roles she is best known for today are small, yet important, characters in Bergman productions, including Mrs Armfeld in Smiles of a Summer's Night, Isak Borg's mother in Wild Strawberries and Grandmother Vogler in The Magician. She acted in her final film role in Hour of the Wolf, a Bergman production from 1968. That very same year, Naima Wifstrand passed away in Stockholm.