Goldberg Variations
In order to stage George Tabori's piece complete with Bach and hard rock, Bergman chose the small stage at The Royal Dramatic Theatre, which facilitated his sought-after contact between stage and audience.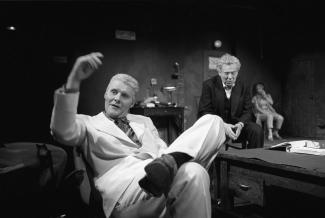 'A flashingly intelligent play.'

Lars Ring, Svenska Dagbladet
About the play
Tabori's drama, part meta-theatrical farce, part Jewish morality play, is full of intertextual quotes and references to the Bible, Shakespeare, and Milton. On the farcical level it presents a rehearsal that ends in disarray; as a morality play, it depicts a series of disasters throughout the history of mankind where God has decided not to intervene.
As Christina Lundberg stated in Västerbottenskuriren, 'Seriousness shares the space with farce in a performance spiced with extravagant humor.'
Sources
The Ingmar Bergman Archives.
Collaborators
Johan Rabaeus

, Mr J

Basia Frydman

, Mrs Mopp

Inga-Lill Andersson

, Teresa Tormentina

Bibi Andersson

, Ernestina van Veen

Björn Granath

, Jafet

Hans Klinga

, Masetto

Mats Bergman

, Raema

Pierre Wilkner

, Hanok

Fredrik Hammar

, Hamlet

Virpi Pahkinen

, Vasti

Fanny Josephson

, Ohola

Daniel Carter

, Guard

Malin Edwall

, Guard

Henri Hanus-Haim

, Guard

Themba Tainton

, Guard

Per Cederin

, Props

Jenny Engdahl

, Props

Bengt Wanselius

, Stills photographer

George Tabori

, Author

Tomas Wennerberg

, Stage manager

Donya Feuer

, Choreography

Göran Wassberg

, Costume design

Jan-Eric Piper

, Sound

Pierre Leveau

, Lightning

Ulf Englund

, Lightning technician

Lars Lindberg

, Lightning technician

Johan Lindell

, Music

Johann Sebastian Bach

, Music

Leif Qviström

, Make-up and wigs

Eva Ekman

, Make-up and wigs

Peter Westerberg

, Make-up and wigs

Sofi Lerström

, Producer

Ingmar Bergman

, Director

Anna von Rosen

, Assistant director

Stefan Lundgren

, Props

Claes Snell

, Master carpenter

Roland Åblad

, Master carpenter

Antonia Pyk

, Prompter

Erland Josephson

, Translation

Ulla Åberg

, Translation