Bibi Andersson
One of Sweden's most famous actresses, Andersson made her screen debut at the age of 15 in Bergman's Bris Soap commercials (1951-53). 15 years on, she played the role of her career, nurse Alma in Persona (1966).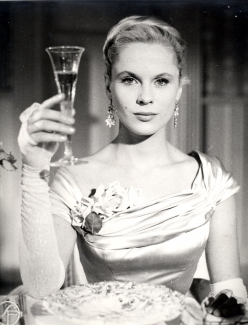 Bibi Andersson
One of Sweden's most famous actresses, Andersson made her screen debut at the age of 15 in Bergman's Bris Soap commercials (1951-53). 15 years on, she played the role of her career, nurse Alma in Persona (1966).
'[...] he gave me very beautiful parts. Wonderful people, in fact.'

Andersson on her Bergman roles
About Andersson
Born Berit Elisabeth Andersson, 11 November 1935 in Stockholm. Her elder sister Gerd studied ballet at the Royal Swedish Opera, and she herself at the Gösta Terserus stage school and the Royal Dramatic Theatre (1954–60).

Andersson made her film debut at the age of 15 in one of Ingmar Bergman's commercials for Bris soap, in which she played a princess who has to give a swineherd a hundred kisses in return for a bar of soap. In the early year's of her career she also appeared alongside Nils Poppe in Dum-Bom and Edvard Persson in En natt på Glimmingehus. These 'fresh-faced girl roles' were something into which she became typecast during the 1950s, a decade when she remained 'the natural, fresh dream of youth in Swedish film'. The first director to cast Bibi Andersson in a more mature part (with Bergman and Brink of Life as a possible exception) was Vilgot Sjöman in The Mistress, a role for which she picked up the Best Actress award at the 1963 Berlin Film Festival.

In Images from the Playground, Bibi Andersson comments upon her Bergman roles: 
Several times I had this thought…, 'He doesn't think I have any more to give.' But I will show him what dramatic talent I possess! Yet I had to do all these nice schoolgirls. Which I didn't want to do. I wanted to do the parts that Harriet got. And then Liv got them. I was a bit overlooked there, I thought. As I'm a sour-puss when I feel I've been passed over. But he gave me very beautiful parts. Wonderful people, in fact.
In 1956 she joined Bergman's group of actors at the Malmö Municipal Theatre, where her roles included the lead in Hjalmar Bergman's The Legend, a part that she recreated at the Royal Dramatic Theatre, also under Bergman, in 1963. She also had minor roles in some of Bergman's films from the 50s, such as Smiles of a Summer Night, The Seventh Seal and Wild Strawberries. After Malmö Municipal Theatre she was briefly at the Uppsala City Theatre until she joined the Royal Dramatic Theatre in 1959, where she has remained on and off ever since. At the Royal Dramatic Theatre she played the Marilyn Monroe-inspired lead in Arthur Miller's After the Fall (1964), and also the young wife in Bergman's production of Who's Afraid of Virginia Woolf?.
In the mid-60s she played her first leading role for Bergman in Persona. Her interaction with Liv Ullmann in that film ranks among the greatest acting in Swedish cinema, and Andersson was rewarded a Guldbagge for her efforts.

In the wake of Persona she had an uneven international career that included Westerns and disaster movies, but also roles for John Huston and Robert Altman. Her best-known non-Swedish film, however, is Gabriel Axel's Oscar-winning Babette's Feast, in which she played a minor role alongside Jarl Kulle. 1977 saw her on Broadway in the role of Siri von Essen alongside Max von Sydow as Strindberg in Per Olov Enquist's The Night of the Tribades. She had already played Siri von Essen the year before in her husband at the time Kjell Grede's Strindberg series (A Madman's Defence) for Sveriges Television, produced by Ingmar Bergman's company Cinematograph. Following on from Bergman's tax authority problems, Bibi Andersson was also involved in a tax investigation in 1978, in which the authorities alleged that she had not paid tax on the fees she received from Bergman's Swiss-registered company Persona Film.

In the 1980s Bibi Andersson tried her hand at directing, with productions in Stockholm of Sam Shepard's True West and Suzanne Brøgger's After the Orgy.

Also during the 1980s she was publicly and actively involved in peace and feminist-related issues. In the 1990s she became involved in the Sarajevo Open Road project, which aimed to bring the arts to war-torn Yugoslavia. She herself played on the stage in Sarajevo. In 2005 she performed a monologue about the 18th century Swedish noblewoman Magdalena Rudenschöld at a small theatre in Antibes.

Her autobiography Ett ögonblick ('One Moment') was published by Norstedts in 1996.

In recent years she has enjoyed somewhat of a comeback in Swedish film with Guldbagge award-winning roles in Måns Herngren and Hannes Holm's Shit Happens and in Klaus Härö's Elina. 

For her part as the callous abbess in Arn: The Knight Templar she was awarded the Guldbagge for best supporting actress in 2007, becoming with her four trophies the most awarded actor in the Swedish Film Gala history.

Apart from her marriage to Kjell Grede, Andersson has also been married to the politician Per Ahlmark and, since 2004, to the doctor Gabriel Mora Baeza.
Bibi Andersson passed away the 14th of April 2019.
Sources
Bengt Forslund, Bengt Forslund presenterar filmstjärnor: en bok om svenska skådespelerskor i världen, (Stockholm: Alfabeta, 1995).
Myggans nöjeslexikon: ett uppslagsverk om underhållning, red. Uno Myggan Ericson, (Höganäs: Bra böcker, 1989-1993).
Guldbagge Award (Best Supporting Actress) for As If I Didn't Exist (2004)

Guldbagge Award (Best Supporting Actress) for Shit Happens (2001)

National Society of Film Critics (Best Supporting Actress) for Scenes from a Marriage (1974)

Guldmasken Award (Best Actress) for The Touch (1972)

Guldbagge Award (Best Actress) for Persona (1967)

National Society of Film Critics (Best Actress) for Persona (1967)

Chaplin Award (Best Actress) for Syskonbädd 1782 och Persona (1966)

Filmkamraterna Award (Best Actress) (1966)

L'Academie du Cinemas Award (Best Actress) for Syskonbädd 1782 (1966)
The Swedish Film Academy's honorary plaque for Syskonbädd 1782 (1966)

The Swedish Film Academy's diploma (Best Actress) for June Night (1966)

The Swedish Film Academy's diploma (Best Actress) for The Island (1966)

Berlin International Film Festival's Silver Bear (Best Actress) for The Mistress (1963)

The Swedish Film Academy's plaque (1963)

Chaplin Award (Best Actress) for The Wedding Day and The Devil's Eye (1960)

The Cannes International Film Festival Award (Best Actress) shared with Ingrid Thulin, Eva Dahlbeck, Barbro Hiort af Ornäs for Briknk of Life (1958)

The Swedish Film Academy's honorary plaque (1958)