The Hangman/ The Golden Chariot
Bergman staged this, his second play, exactly one year after his debut in April 1938 of Outward Bound.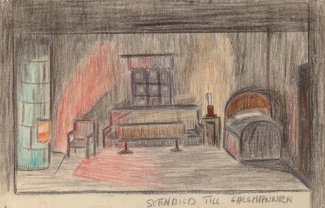 'It's actually a damn shady play.'
About the production
The purpose of this production was to offer serious drama during Silent Week and to present a repertory not offered by the large professional theatres in Stockholm.
Sources
The Ingmar Bergman Archives.
Collaborators
Doris Rönnqvist

, Mrs Lyders (The Golden Chariot)

Inga Nicklasson

, Petrine (The Golden Chariot)

Curt Edgard

, William Beck (The Golden Chariot)

Cai Winter

, Colonel Toll (The Hangman)

Barbro Hiort af Ornäs

, Maria (The Hangman)

Axel E. Bentzonich

, Author "The Hangman"

Runar Schildt

, Author "The Golden Chariot"

Ingmar Bergman

, Director