Hedda Gabler
The Munich production of Hedda Gabler was a 'remake' of Bergman's much admired 1964 Royal Dramatic Theatre staging of Ibsen's play, including Hedda's famous opening pantomime before the mirror when she examines her body for signs of pregnancy.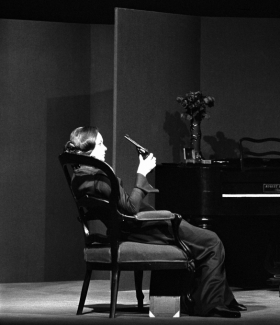 'Complete respect to the absolute loyalty paid to the poet, when in general directors seem to know more than the author.'

George Salmony, Abendzeitung
Reviews and comments
This became Bergman's best reception thus far in Munich, though several reviewers noticed a discrepancy between Bergman the filmmaker who projected his personal self on the screen and Bergman the theatre director who apparently sought a different, less subjective form of expression. 
Sources
The Ingmar Bergman Archives.
Birgitta Steene, Ingmar Bergman: A Reference Guide, (Amsterdam University Press, 2005).
Collaborators
Christine Buchegger

, Hedda Gabler

Karl-Heinz Pelser

, Jörgen Tesman

Martin Benrath

, Eilert Lövborg

Gaby Dohm

, Thea Elvsted

Kurt Meisel

, Assessor Brack

Annemarie Wernicke

, (unknown part)

Paula Braend

, (unknown part)

Henrik Ibsen

, Author

Reinhard Hempelt

, Stage manager

Ingmar Bergman

, Director

Johannes Kaetzler

, Assistant director

Mago

, Designer

Heidi Scherer

, Prompter

Heiner Gimmler

, Translation