John Gabriel Borkman
In one of Ibsen's last dramas Bergman gathers a fantastic ensemble, with the Bergman associates Erland Josephson and Gunnel Lindblom in the leading parts.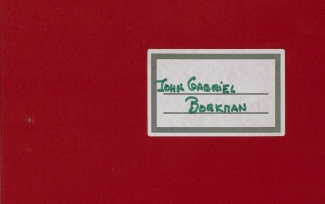 "A perfection so polished it runs the risk of being dead."
About the production
Ingmar Bergman cut down Ibsen's drama to a 75-minute performance. He (and Erland Josephson) toned down Borkman's megalomania, turning the former mining industrialist into an old man who dreams of his former power rather than someone seeking personal restitution. Gunnel Lindblom's portrayal of Mrs Borkman stressed the wife's angered pain over the shame that Borkman's economic machinations, bankruptcy and prison term had brought the family. Her embittered voice stood out as the central voice in the produciton, accompanied by the echoing steps of the restless Borkman traipsing about upstairs in the house and of son Erhart's comings and goings. The only non-diegetic sound used were a few bars of piano music.
Sources
The Ingmar Bergman Archives.
Birgitta Steene, Ingmar Bergman: A Reference Guide, (Amsterdam University Press, 2005).
Collaborators
Erland Josephson

, John Gabriel Borkman

Gunnel Lindblom

, Gunhild Borkman

Jonas Malmsjö

, Erhart Borkman

Anita Björk

, Ella Rentheim

Jane Friedmann

, Mrs Fanny Wilton

Jan-Olof Strandberg

, Vilhelm Foldal

Maria Bonnevie

, Frida Foldal

Margreth Weivers

, Malene

Henrik Ibsen

, Author

Bisse Svalberg

, Stage manager

Ludvig van Beethoven

, Music

Käbi Laretei

, Musician (piano)

Ian Cederholm

, Musical technician

Jan Cruseman

, Producer

Ingmar Bergman

, Radio adaptation

Frida Englund

, Technician

Klas Östergren

, Translation