Gunnel Lindblom
Actress and director with a distinct sensual air whose collaboration with Ingmar Bergman spanned over 50 years.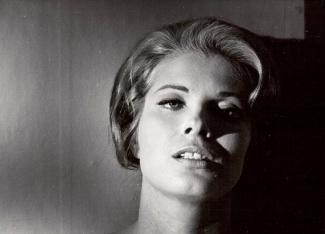 Gunnel Lindblom
Actress and director with a distinct sensual air whose collaboration with Ingmar Bergman spanned over 50 years.
'Gunnel ran off like a panther in a field of potatoes.'

Marianne Höök
About Lindblom
Gunnel Märtha Ingegerd Lindblom was born in Gothenburg, Sweden, 18 December 1931, and grew up in a radical working-class family. At the age of 12, she began participating in a communist youth club. A few years later she acted at Eriksbergsvarvet in Gothenburg, where she met Benkt-Åke Benktsson, who urged her to become an actress. She initially pursued a more conventional line of study, working as a theatre clerk just as a hobby. She studied at the Pickwick Club's Acting School in the evenings until her interest in the theatre got the better of her, when she applied to the Gothenburg City Theatre Acting School, where she was accepted in 1950.
Lindblom had her film debut in 1952 in Gustaf Molander's production of Kaj Munk's Kärlek, which was filmed in the Bohusland archipelago on Sweden's west coast. Ingmar Bergman, the then Head of the Gothenburg City Theatre, discovered Lindblom and hired her at the Malmö City Theatre in 1954. It was here, in Malmö, where Lindblom's career really started to take off, and she remained at this theatre until 1959. She acted in Bergman's productions of Peer Gynt as Solveig and Ur-Faust as Margaretha, as well as acting in a number of Bergman films in the 1950's and 1960's, such as The Seventh Seal, The Virgin Spring and The Silence. 
Along with Mai Zetterling, she acted in the 1960's productions Loving Couples and The Girls, where she acted opposite Bibi and Harriet Andersson. All three actresses also collaborated in Christina Olofson's 1996 documentary Lines from the Heart, a sort of documentary sequel of Flickorna.
Between 1959 and 1961, Lindblom also joined a television theatre ensemble. She has worked at the Royal Dramatic Theatre since 1968, where she has acted in leading roles in plays by Strindberg, Ibsen and Chekhov, roles which testified to her 'dark sonority and sensual magnetism'. Two of her leading roles from this time include Marie in Bergman's 1969 production of Woyzeck and Laura in Alf Sjöberg's Fadern from 1968.
After working as Bergman's directorial assistant on three Royal Dramatic Theatre productions – Show, The Wild Duck and The Ghost Sonata, Lindblom focused on her own directing career in the 1970's. Her directing style has been characterized as psychologically attentive, with an outspoken female perspective. In Sweden, she directed Morbror Vanja in 1974, George Bernard Shaw's Widowers' Houses in 1975 and Agneta Pleijel's Summer Nights on the Planet Earth in 1986. She filmed the latter one year later, and in 1990 she had her debut as a director of opera with Wilhelm Stenhammar's Gillet på Solhaug at the Norrland Opera.
Bergman directed Lindblom once again at the Royal Dramatic Theatre in 1986, this time as Gertrude in Hamlet. The long working life they shared also includes the feature films Paradise Square and Sally and Freedom, films which Lindblom directed for Bergman's Cinematograph production company. In 2004 Lindblom directed a Bergman radio adaptation of Ibsen's Rosmersholm.
In 2007 Lindblom's performance alongside Elin Klinga in the title roles of the Royal Dramatic Theatre's staging of P.O. Enquist's Blanche and Marie, directed by Hilda Hellwig, was met with great acclaim.
Gunnel Lindblom is married to Senior Lecturer Sture Helander, who was also Ingmar Bergman's doctor.

Gunnel Lindblom passed away the 24th of January 2021.
The Swedish Academy's Theatre Award (2002)

Honorary Guldbagge Award (2002)

The Gösta Ekman Scholarship awarded by Teaterförbundet (1995/96)

The Royal Dramatic Theatre's O'Neill Scholarship (1989) 

Litteris et artibus (1988)

The Svenska Dagbladet Thalia Award (1971)