Madame de Sade
Bergman's hit production of Yukio Mishima's play.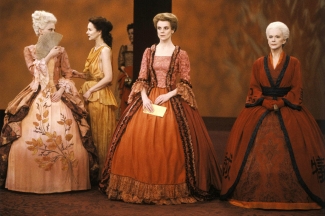 'Starkly ascetic regarding the physical effects, yet vibrating with sensibility.'

Carlhåkan Larsén, Sydsvenska Dagbladet
About the production
That Mishima's play depicts a decaying world was suggested in Bergman's production by a changing color scheme, which remained in orange and rose tones during the first act, in bloody red colors in the second act and in grey and black in the final act. Kristoffer Leandoer described it as 'a fire that was lit and flared up but left nothing but ashes behind'.
Bergman's production of Yukio Mishima's play Madame de Sade was not the first work by the Japanese playwright to be performed in Sweden. In 1959, The Royal Dramatic Theatre had produced some of Mishima's Noh plays and in 1970, the Swedish Theatre in Helsinki visited The Royal Dramatic Theatre with a version of Madame de Sade. Mishima had been nominated several times for the Novel Prize in literature but was passed over in favour of his mentor Kawabata (1968).

An enthusiastic critical corps focussed on Bergman's ensemble of actresses and on the concentration and musicality of his staging.
Sources
The Ingmar Bergman Archives.
Birgitta Steene, Ingmar Bergman: A Reference Guide, (Amsterdam University Press, 2005).
Review in Arbetet:
The acting trembles with tension. There are nuances one did not think were possible to achieve on stage. [...] Slowly but mercilessly Bergman sharpens the performance. [...] One must know a great deal about the theatre to carry off that artistic feat. And one must of course have access to this wonderful ensemble of the most sensitive of instrumentalists. It is hard to imagine better theatre than this.
Almost all of the reviewers were amazed by Bergman's ability to make dynamic theatre out of a rather static and wordy play, and talked about 'a director's triumph over the circumstances' (Kristoffer Leandoer).
Denmark, Århus Music Hall, International Theatre Festival, 6-7 September 1989
Most major Danish critics had already reviewed the performance in Stockholm. The ones remaining were enthusiastic, 'To see this performance is to be reminded how high - and how deep - theatre art can reach when it''s at its greatest. And most rare.'
Japan, Tokyo Globe Theatre, 8-13 January
In Japan there were six guest performances. The critics were impressed by Bergman's knowledge of and insight in Noh dramaturgy, special mention was made of the beautiful costumes worn by the actresses as well as the choreography. Some of the actresses' voices were considered too harsh.
Switzerland, Zurich Corso Theatre, 9-12 May 1990
The performance was referred to as 'a linguistic work of art', but others thought there was 'much talking and little acting'.
Israel Festival, Jerusalem, 5-10 June 1990
The reviews were full of superlatives, among others, 'The wonderful Swedish actresses, whose every movement and touch of voice are coordinated and orchestrated as a string quartet, (and who) move on stage with amazing and cold grace, like Dresden china dolls…'.
Scotland, Glasgow, 13-15 August 1990
Three performances were given, but no reviews have been located.
Belgium, Antwerp, 17-21 October 1990
Five performances were given, but no reviews have been located.
Portugal, Lisbon, Teatro Nacional D. Maria II, 18-20 April 1991
During the time of the guest performance there was also a photo exhibition entitled Bergman/Em Cena (Bergman/On Cinema). The critique was mixed, many praised Bergman's handling of the performers but the simultaneous translation seems to have ruined the experience for many.
Italy, Festival de Parma, 27-28 September 1991
In addition to the guest performance, two of Bergman's films were screened, The Magician and After the Rehearsal.
The reviewers praised the grandeur of Bergman's production and the beauty of the presentation.
Lithuania, Vilnius, 11-13 May 1993
The critics lifted up every part of the performance as extraordinary, mise-en-scene, rhythm, costumes, performance etc.
USA, New York, Brooklyn Academy of Music (BAM), 20-22 May 1993 and 7-10 June 1995
The performance was presented in a double bill together with Bergman's production of Peer Gynt. One critic exclaimed, 'One of the most noble evenings I've ever spent in the theatre,' and another wrote, 'visually, vocally, kinetically at once French, Japanese, and Swedish'.
Taiwan, Tapei International Theatre Festival, 5-8 August 1993
One critic saw the production as the essence of Bergman's theatre art: 'his aesthetic stylization, his instruction of the actresses, his psychological penetration with "the different door open towards the seven deadly sins.'
Hungary, Budapest European Theatre Union Festival, 6-8 November 1993
Bergman's production was called, 'A pure, precise, carefully executed calligraphy,' and it fulfilled 'perfectly the expectations that Bergman's reputation has created.'
Collaborators
Barbro Forsgårdh
Stina Ekblad

, Renée

Anita Björk

, Madame de Montreuil

Marie Richardson

, Anne

Margaretha Byström

, Baronessa de Simiane

Agneta Ekmanner

, Countess de Saint-Fond

Helena Brodin

, Charlotte

Irene Wiklund

, Picture engineer (TV version)

Kjell-Inge Stevensson

, Conductor

Ulla Åberg

, Dramaturgy

Jacob Bjelfvenstam

, Electrician (TV Version)

Olle Jungesäter

, Electrician (TV Version)

Pelle Norén

, Camera operator (TV version)

Bo Johansson

, Camera operator (TV version)

Raymond Wemmenlöv

, Camera operator (TV version)

Bengt Wanselius

, Stills photographer (Dramaten)

Yukio Mishima

, Author

Ulla Cederlund

, Stage manager (Dramaten)

Sylvia Ingmarsson

, Editing (TV version)

Maggie Strindberg

, Costumes (TV version)

Helvi Treffner

, Costumes (TV version)

Donya Feuer

, Choreography

Charles Koroly

, Costume design

Mette Möller

, Costume design (TV version)

Jan-Eric Piper

, Sound (Dramaten)

Björn Lönnroos

, Sound (Dramaten)

Curre Forsmark

, Sound engineer (TV version)

Sven-Eric Jacobson

, Lightning (Dramaten)

Börje Berglund

, Lightning (TV version)

Rudi Schuster

, Lightning technician (Dramaten)

Benny Grün

, Lightning technician (Dramaten)

Britt Falkemo

, Make-up woman (TV-version)

Monica Kilpiö

, Make-up woman (TV-version)

Gunnar Frisell

, Mixing (TV version)

Ingrid Yoda

, Music

Futurumensamblen

, Orchestra

Sofia Ranow

, Make-up and wigs

Eva Maria Holm-Katzeff

, Make-up and wigs (Dramaten)

Katarina Sjöberg

, Producer

Måns Reuterswärd

, Producer (TV version)

Christina Hörnblad

, Project leader (TV version)

Ingmar Bergman

, Director

Richard Looft

, Assistant director

Stefan Lundgren

, Props (Dramaten)

Jan-Erik Savela

, Props (TV version)

Bertil Sahlén

, Props (TV version)

Bengt Larsson

, Master carpenter (Dramaten)

Maj-Britt Vifell

, Script girl (TV version)

Rolf Granquist

, Carpenter (TV version)

Eva Norde

, Studio manager (TV version)

Gun Nilsson

, Floor manager (TV version)

Lolo Amble

, Prompter (Dramaten)

Jan Forsberg

, Upholsterer (TV version)

Hans Rydström

, Technical manager (TV version)

Jan Askelöf

, Video editing (TV version)

Gunilla Lindberg-Wada

, Translation

Per Erik Wahlund

, Translation