The Magic Lantern
Bergman's first autobiography is a hugely revealing and honest piece of writing. 'Honest', however, doesn't necessarily mean 'truthful'. It serves as an interesting testimony, and as a literary piece of work it is genius.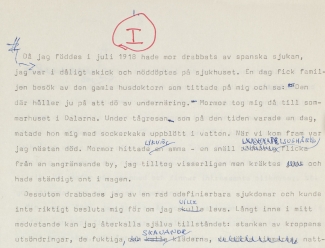 About the text
Dubious as a 'document'; masterful as literature, the book has a non-chronological structure, with altering chapters on childhood, theatre work, the tax affair in 1976, marriage crises, teenage summers in Nazi Germany, encounters with artists like Laurence Olivier, Greta Garbo, and Herbert von Karajan. Despite the title, the book contains little information on Bergman's filmmaking.
I'm planning, you see, to try to confine myself to the truth. That's hard for an old, inveterate fantasy martyr and [illegible] liar who has never hesitated to give truth the form he felt the occasion demanded. (From an early draft.)
C:027
[903] sheets ; 18 x 22 cm + 1 loose sheet 
Handwritten script. Part I-II. No title page. Undated. Loose sheet: "NOTE!: If I die or become incapacitated this material may in no respect be published, either in whole or in part. Fårö 05.08.86. Ingmar Bergman".
C:028
[417] sheets + envelope
Typewritten script with two title pages. Dated Fårö 1986. Revised script with additions changes. XXVII chapter + 4 brown envelopes.
C:029
[534] sheets with 4 unnumbered sheets 
Typewritten script. No title page. Carbon copy with handwritten changes.
C:030 
341 sheets 
Typewritten script. Dated Fårö 1986. Handwritten corrections. Pages paginated by hand.  Some sheets not included in pagination. 
C:031
207 sheets + supplement 19 sheets
Proof copy of script with changes. Supplement 1: Loose sheets, copies of material relating to the children's song "Riddaren Finn Konfusenfei".
C:033
356 sheets
Typewritten script. Original. Dated: Fårö 25.9.86. Handwritten corrections. Brown plastic binder.
F:080
[36, 11, 8] sheets ; 18 x 22 cm
Handwritten script draft. Undated. Includes: "The beginning of some sort of memoir", "Karin Bergman" and text about early music memories.
F:132
[38] p. ; 20 x 18 cm
Spiral notepad. Dated: "Thursday 1.5.86 - Saturday 19.7.86". On cover: "The Magic Lantern". Contains diary entries. 
Laterna magica (Stockholm: Norstedts Förlag, 1987). Translated and published in several other languages.