The Merchant of Venice
Bergman och Erland Josephson's first collaboration, in a 'paperback version' of a Shakespeare classic.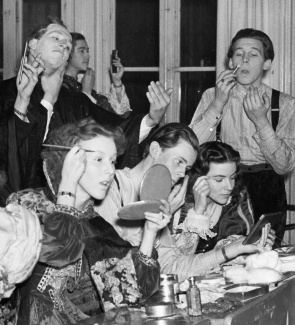 'One could imagine that the Shylock drama is an altogether too difficult play for a young acting troupe, but they succeeded suprisingly well.'
About the production
Shakespeare is a playwright Bergman returned to time and time again. He staged two additional performances of Macbeth in the 1940s alone: at Helsingborg City Theatre in 1944 and in 1948 at Gothenburg City Theatre.
As he was preparing his first staging of Macbeth, he wrote in SFP-bladet:
In my opinion, the pleasure of this piece lies in its combination of sharp psychological analysis, the tale's gruesome, marvellous tone and the criminal suspense and logical stringency, making for a genius piece of drama.
Bergman regarded the play as a dark tale, yet never voiced any connections to the world at large or Nazism in particular. In his 1944 production, however, he changed all that, writing in the programme notes that his interpretation of Macbeth is as an anti-Nazi piece.
Numerous collaborators in the play were drafted, requiring laborious efforts to convince the numerous military captains to grant these individuals permission to remain in order to stage the premiere. Nonetheless, the play was held as planned and was staged at Flickläroverket (Girl's Secondary School) in Stockholm. Even at this early stage in his career, Bergman displayed an ability to work with the set designers to create expressively impressive backdrops, which worked hand in hand with the acting and direction. The stage design, under the direction of Ruben Zehlén and Torsten Ohlsson, impressed many of the critics. When Bergman staged Macbeth in Gothenburg in 1948, he used the same set design.
Sources
The Ingmar Bergman Archives.
Bergman, The Magic Lantern.
Henrik Sjögren, Lek och raseri: Ingmar Bergmans teater 1938-2002, (Stockholm: Carlssons Bokförlag, 2002).
Margareta Wirmark (red.), Ingmar Bergman film och teater i växelverkan, (Stockholm: Carlssons Bokförlag, 1996).
The filmmaker Vilgot Sjöman discussed the production in his memoir.
It was a success, the likes of which the venerable assembly had at Norra Latin had seldom experienced. The director had trimmed his actors to a top performance and had worked miracles with the lighting effects.
Collaborators
Erland Josephson

, Antonio

Gösta Prüzelius

, Shylock

Ingmar Bergman

, Director

William Shakespeare

, Author