A Midsummer Night's Dream
Shakespeare's play in an abbreviated and child-friendly format.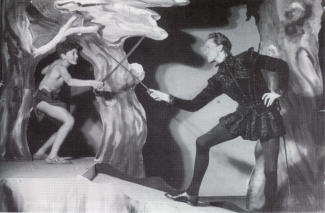 'The justification of a children's theatre, like all other forms of theatre, lies in offering its public something it can enjoy [...] Sagoteatern must be careful not to assume that a young public is uncritical and forgiving.'

Oscar Rydqvist, Dagens Nyheter
About the production
Bergman envisioned an audience not familiar with Shakespeare's play as a living stage tradition, but more like Shakespeare's groundings - naïve and spontaneous in their reactions and judgment.
Assuming that such a public would be more interested in Puck, Obreon, Titania and Bottom than in the lovers' game of musical chairs, Bergman shortened Shakespeare's text according to five quarters of an hour. Puck was played by a 12-year old boy, Bengt Dalunde. Baroque music was used between the scenes to tie the piece together.
 In a telephone interview before the opening of his next production, Little Red Riding Hood, Bergman said,
We have experimented the whole time; after our first programme, The Tinder Box, we dared tackle Shakespeare's A Midsummer Night's Dream, which ran no less than 50 times on our small stage. The public seemed happy, but in some quarters it was tantamount to sacrilege to perform Shakespeare in an hour and fifteen minutes.
Sources
The Ingmar Bergman Archives.
Henrik Sjögren, Lek och raseri: Ingmar Bergmans teater 1938-2002, (Stockholm: Carlssons Bokförlag 2002).
Birgitta Steene, Ingmar Bergman, A Reference Guide, (Amsterdam University Press, 2005).
'A daring company is the one to place this fairy play on a stage measuring no more that 5 x 6 metres.'
- Erik William Olsson, Svenska Dagbladet
'The charming little rascal, with his uninhibited love of acting, was the best actor to grace the stage.'
- Oscar Rydqvist on Bengt Dalunde, Dagens Nyheter
Collaborators
Sture Djerf

, Theseus

Sture Ericson

, Egeus

Bertil Sjödin

, Lysander

Rune Stylander

, Demetrius

Rune Bernström

, Philostrat

Karl-Axel Forssberg

, Quince

Olov Källman

, Snug

Bo Lindström

, Bottom

Gunnar Nielsen

, Flute

Börje Herner

, Snout

Ulf Johanson

, Starveling

Maud Hyllenberg

, Hippolyta

Ingrid Michaëlsson

, Hermia

Ragnhild Wessberg

, Helena

Marianne Lenard

, Oberon

Birgitta Arman

, Titania

Bengt Dalunde

, Puck

Bojan Westin

, Moth

Kerstin Boström

, Pease-Blossom

Gudrun Ekberg

, Cobweb

Gunnel Hansson

, Mustard-Seed

Gittan Söderlund

, Fifth Elf

William Shakespeare

, Author

Ingmar Bergman

, Director

Gunnar Lindblad

, Designer