Murder at Barjärna
Bergman chose one of his own plays for his first production at Malmö City Theatre during his six-year residence.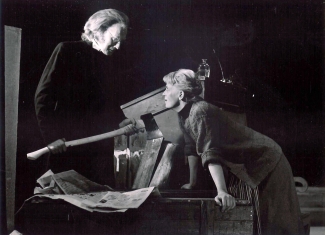 About the production
Bergman had been a guest director at Malmö in 1945. Some have suggested that the production of Murder at Barjärna was a kind of test for Bergman before assuming his six-year stay at the Malmö City Theatre.
The play was presented without intermission. On opening night several members of the audience reportedly walked out. The critical consensus was overwhelmingly negative: 'This is probably the only premiere the play will ever have'. The work had been given a great deal of pre-publicity, pointing out its sadistic and sexually provocative content, which was seen by several reviewers as a smokescreen to detract attention from the fact that Bergman's play was a literary disaster.
Sources
The Ingmar Bergman Archives.
Collaborators
Oscar Ljung

, Jonas

Margareta Bergfelt

, Mari-Gaila

Naima Wifstrand

, The mother

Berit Gustafsson

, Karin

Rune Turesson

, Frans

Toivo Pawlo

, Jesper

Lena Cederström

, Ella

Harriet Garellick

, Malla

Per Hjern

, Old man

Per Björkman

, Old man

Josef Norman

, Old man

Ingmar Bergman

, Author

Martin Ahlbom

, Designer