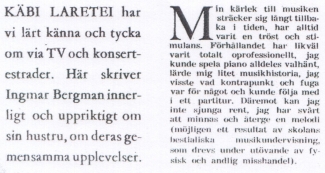 About the text
Bergman write about his interest in music in general, and his wife in particular.
A Bach fugue is straightforward, never faltering, yet demands vitality and warmth. A Chopin barcarolle (a masterpiece seemingly sentenced to eternal torture in drawing rooms around the world) must be given its sensual vigour, its secretive diabolism, its commanding dynamism, much more than a simple glossy exterior.
Vecko Revyn, No. 11, pgs. 16–18; 79.