[Notes on In Bethlehem]
Draft of a speech presumably given by Bergman before the performance of In Bethlehem.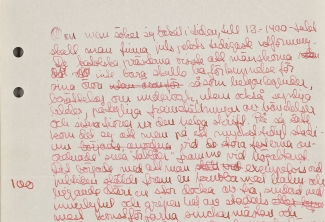 About the text
In Bethlehem was performed under Bergman's direction at Mäster Olofsgården, and later as a Christmas pageant at Stockholm's Hedvig Eleonora Church. In this draft (intended perhaps for the programme or opening night speech), you can see the first inklings of certain aspects of The Seventh Seal. Additionally, the protestant Bergman seems a bit jealous of the Catholic tradition's multisensory and more than slightly cinematographic liturgy:
The Catholic priests [pre-Reformation] knew that people didn't just want preaching - legends of the saints, tales of miracles and sermons - but also visual portrayals and palpable representations of events and situations in the Holy Book.

[…]

On Christmas Day, the people gathered in the church: the manger with child by the altar, surrounded by countless candles, resplendent and shining in heavenly glory, in contrast to the medieval darkness they were used to. This image took hold of their senses more than any sermon, and it was with an agitated longing that they anticipated the next Christmas, when the miracle would transpire anew.
D:004
[3] sheets + Supplement  
Handwritten draft. Supplement 1: Typewritten draft, 2 sheets.