In the Presence of a Clown
Eight improvisations, with the eighth written as a rondel.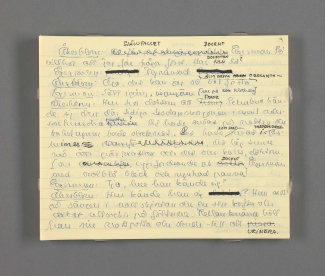 About the text
Writing this, Bergman was undecided whether it would turn into a play or become something else. Eventually it became a film for TV.
B:189
170 p., stapled.
Typewritten script with IB:s edits introduced by Ulla Åberg. Fårö August 1993
C:026
[248] sheets. ; 18 x 22 cm + envelope
Handwritten script. Title page missing. Fårö 30.7.93. 
F:139
[101] p. ; 20 x 18 cm
Spiral notebook. Notes keept between 1985 and 1997. On cover: "Legion. Legion. Legion., Cinematografi, Finn Konfusen Fej summer 85. [abandoned], Finn Konfusen Fej - second attempt summer 93: Åkerblom. In the Presence of a Clown." Pasted photographs and article. Various notes on theatre from other end of notepad. 
Femte akten, (Stockholm: Norstedts, 1994). Translated into and published in several other languages.