The Restless Heart
The production of The Restless Heart became a victory for Bergman as an instructor of actors and marked Gertrud Fridh's breakthrough as a character actress.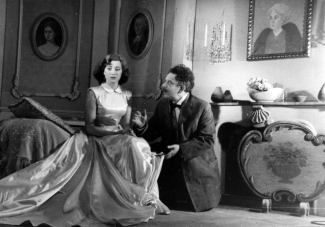 'Above all one shall remember Gertrud Fridh as a wild bird with air beneath her wings.'

Elis Andersson, Göteborgs Posten
About the production
In early fall of 1948, there were rumours that Bergman would terminate his contract at Gothenburgh City Theatre, but on 18 October 1948 the theatre's secretary denied this and announced that Bergman would stage Anouilh's play.
Sources
The Ingmar Bergman Archives.
Birgitta Steene, Ingmar Bergman: A Reference Guide, (Amsterdam University Press, 2005).
The views on  the performance of Gertrud Fridh differed greatly. Elis Andersson wrote, '... She became indeed an extraordinary beautiful theatre experience.' Kjell Hjern, on the other hand, remarked that she couldn't control her voice, which made, 'an ugly and tense impression'.
Elis Andersson wrote in GP regarding Bergman's focus on the drama. 'The director resisted the temptation to overemphasise the social tensions in order to allow the essence of the piece to emerge.' Bergman's way of allowing his characters to freeze in place, just like 'expressive paintings', was another touch Andersson appreciated. 
Collaborators
Gertrud Fridh

, Thérèse

Claes Thelander

, Florent

Ulf Johanson

, Hartman

Tore Lindwall

, Gosta

Semmy Friedmann

, M. Tarde

Hjördis Petterson

, Mme. Tarde

Nine-Christine Jönsson

, Jeannette

Ulla Malmström

, Marie

Elsa Baude

, Mme. Bazin

Ebba Ringdahl
Lisa Lundholm

, Maid

Brita Hedenberg

, Cook

Richard Mattsson

, M. Lebonze

Jean Anouilh

, Author

Ingmar Bergman

, Director

Carl-Johan Ström

, Designer