Sawdust and Tinsel
Subheaded "A chapbook for film".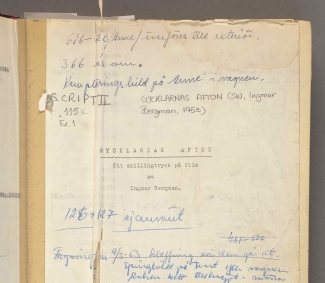 About the text
Two versions of the script exist. The second script version has a different ending from the released film and was published as a serialized film novella in 1953. 
B:003
137 p., ring binder
Typewritten script. 
B:205
468 p., bound + supplements 
Typewritten continuity script with interleaved pages. Supplement 1: Location lists, division of scenes, 14 sheets. Supplement 2: Handwritten dialogue fragment, 3 sheets. 
Filmjournalen 35, no. 25-38, 1953.