Six Characters in Search of an Author
When Bergman produced Pirandello's play in Malmö, there were only 200 seats in the audience, while this staging at the National Theatre in Oslo offered a far more grandiose setting.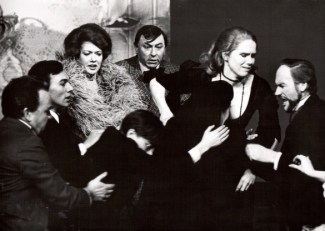 'This production denied any sense of illusion, so much so that in the end the little girl in the six character's dismal family drowns in the prompt box.'
About the production
Ingmar Bergman left Stockholm for Oslo in early 1967, disenchanted with the Swedish theatre situation. In Oslo he presented his second production of Pirandello's play. The premises were different: the Norwegian National Theatre with its baroque ornamental style was a significant contrast to the small modern stage he had previously worked on in Malmö. Bergman placed the action of Pirandello's tragedy of identity inside a virtual mental space. In both, production was juxtaposed to a stripped-down décor, with a few props carried on and off by stage hands.
Bergman had cut freely into Pirandello's dialogue, and the entire performance, including a 20-minute intermission, took less than two hours. 
Norwegian critics raved about the performance. They noted Bergman's dynamic and precise way of moving the actors on the stage to achieve ultimate emotional impact and were struck by his acoustic use of invisible space. On the whole, Norwegian critics focussed on Bergman's reading of Pirandello's play as a tragedy of non-communication and compared it to the theme of his films The Silence and Persona. The Swedish press response was much more concentrated on Bergman's mise-en-scene and his exposure of the theatre as artificiality.
Several commentators touched on Bergman's reference to the crucifixion of Christ in the last act, when the father entered with bloodied hands. 'It is a way of concluding that is not foreign to Bergman'.
Sources
The Ingmar Bergman Archives.
Birgitta Steene, Ingmar Bergman: A Reference Guide, (Amsterdam University Press, 2005).
Collaborators
Knut Wigert

, The father

Tore Segelcke

, The mother

Liv Ullmann

, The stepdaughter

Joachim Calmeyer

, The son

Wenche Medbøe

, The daughter

Mette Rakeng

, The daughter

Henki Kolstad

, The director

Ella Hval

, Madame Pace

Urda Arneberg

, (unkown part)

Gøril Havrevold

, (unkown part)

Aagot Børseth

, (unkown part)

Eva Opaker

, (unkown part)

Gunnar Olram

, (unkown part)

Axel Thue

, (unkown part)

Ståle Bjørnhaug

, (unkown part)

Luigi Pirandello

, Author

Ingmar Bergman

, Director

Lenn Hjortsberg

, Assistant director

Mago

, Designer