A Streetcar Named Desire
Swedish theatres were fighting for the premiere of Tennessee Williams' play; Gothenburg City Theater beat Malmö City Theatre to the plate by a quarter of an hour.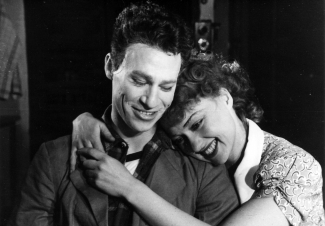 'Ingmar Bergman came to Gothenburg City Theatre as a talented eccentric. After two years, he leaves with this masterpiece, proving to have developed his strength and become one of the country's most capable directors.'
About the production
In a brief interview, Bergman stated, 'Tennessee Williams' play is full of poetry. For me personally it arouses many memories of my own films and plays. Tennessee Williams has an interest in death and desire, which I share. Therefore I am very grateful for his task.'
Carl Johan Ström's stage design gained much praise, as he had created an atmosphere which held real cars, a turning stage and a non-stop neigbourhood cinema with neon signs flashing Desire.
Bergman's production of A Streetcar Named Desire received rave reviews and was the highlight of his Gothenburg years. On the whole, it was the intensity and energy of the production, coupled with Bergman's attention to detail that caught the critics' attention. However, filmmaker Vilgot Sjöman felt that at times too much of the movie magician Bergman shone through in a production in which a fast and loud scene tempo usurped William's poetic and tragic mood.
Sources
The Ingmar Bergman Archives.
Henrik Sjögren, Ingmar Bergman på teatern, (Stockholm: Almqvist & Wiksell, 1968).
Birgitta Steene, Ingmar Bergman: A Reference Guide, (Amstedam University Press, 2005).
The critics were lyrical. 'Exquisitely artistic in every detail,' Afton Tidningen wrote. David Halldén in Aftonbladet joined in. 'Never before has he shown, as he does here, what a fantastic man of the theatre he is'. He also called it a perfect performance. 'The casting has not a single snag, the tempo is hectic, the psychological progression is clear and concise.'
Also the trio holding the leading parts were praised:
'The furious trio of Ingmar Bergman, Karin Kavli and Anders Ek had a strange hold on the audience, leaving it gasping for air.'
Birgitta Steene, Ingmar Bergman: A Reference Guide (Amsterdam University Press, 2005)
Henrik Sjögen, Ingmar Bergman på teatern (Almqvist & Wiksell, 1968).
Collaborators
Maria Sjöstrand
Ann-Mari Ström

, Eunice Hubbell

Anders Ek

, Stanley Kowalski

Annika Tretow

, Stella Kowalski

Herman Ahlsell

, Steve Hubbell

Harry Ahlin

, Harold Mitchell

Karin Kavli

, Blanche du Bois

Arne Nyberg

, Pablo Gonzales

Berta Hall

, The mexican woman

Ulla Zetterberg

, The nurse

Håkan Jahnberg

, The doctor

Tennessee Williams

, Author

Ingmar Bergman

, Director

Carl-Johan Ström

, Designer