Three Knives from Wei
In June 1964, during the Stockholm Drama and Arts Festival, Bergman presented the world premiere of Swedish poet Harry Martinson's Three Knives from Wei.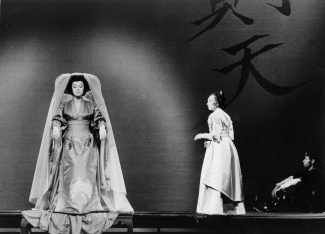 'The most remarkable piece of Swedish theatre I have ever had in my hands.'
About the production
Bergman's production of Martinson's drama in 1964 might be juxtaposed to his staging of Japanese playwright Mishima's Madame de Sade in 1989. Both plays have a predominately female cast and both became visually splendid performances, like courtly masques.
Bergman's production was preceded by months of publicity. Reviewers recognize that the play was a labor of love by Martinson who had been occupied with it for almost a decade, but questioned its dramatic potential. Many suggested that Bergman's role was absolutely crucial in making Martinson's play stage-worthy but considered the production more of a cultural event than a truly memorable theatrical experience. 'The Knives from Wei flashed but left no wounds in the hearts of the audiences.'
Sources
The Ingmar Bergman Archives.
Birgitta Steene, Ingmar Bergman: A Reference Guide, (Amsterdam University Press, 2005).
Collaborators
Inga Tidblad

, Shi Mo

Marianne Aminoff

, Chi Yün

Jane Friedmann

, Yu Tan

Renée Björling
Sissi Kaiser

, Princess Yang

Solveig Ternström

, Li Hua

Margaretha Krook

, Laila

Dora Söderberg

, Wai

Helena Brodin

, Lai Yü

Mona Malm

, Yü Pei

Gunnel Broström

, Nan Fei

Ellika Mann

, Tai Yü

Lena Nyman

, Al-Lu-Te

Birgitta Valberg
Irma Christenson
Aino Taube

, Pei the nun

Christina Lundqvist

, Paavo Kiiski

Marianne Karlbeck
Sonja Kolthoff
Mona Andersson
Kerstin Wartel

, Young lady

Anne Nord

, Another young lady

Lillemor Björnstrand
Signe Enwall
Ragnar Falck
Hans Sundberg
Karin Kavli
Morgan Andersson
Helge Skoog

, Courier

Henrik Schildt

, Kong Lu

Fillie Lyckow
Birger Malmsten

, The carrier

Per-Olof Ekvall
Olle Ek
Beata Bergström

, Stills photographer

Harry Martinson

, Author

Karl-Axel Stridh

, Stage manager

Mercedes Björlin

, Choreography

Kerstin Hedeby

, Costume design

Ulf Björling

, Music

Arne Lundh

, Make-up and wigs

Ingmar Bergman

, Director

Lenn Hjortzberg

, Assistant director

Elisabeth Leijonmarck

, Prompter