Birger Malmsten
Strikingly beautiful heartthrob of the Swedish screen in the 1940s and 50s. Made his screen debut in Torment and went on to play Bergman's alter ego in a number of films.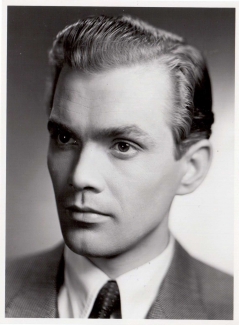 Birger Malmsten
Strikingly beautiful heartthrob of the Swedish screen in the 1940s and 50s. Made his screen debut in Torment and went on to play Bergman's alter ego in a number of films.
'Birger Malmsten is no Jean Gabin.'

Lorens Marmstedt
About Malmsten
Birger Malmsten was born 23 December 1920 in Gräsö, Sweden. After visiting the Royal Dramatic Theatre as a youth, he was determined to become an actor. As a schoolchild, he moved from Gräsö to Stockholm, after a family friend offered to help him with his studies. He supported himself in Stockholm by working numerous jobs, including as an errand boy. In 1936 he featured in Swedish magazine 'Filmjournalen' in a piece on a mime competition. Malmsten spent as much of his free time at the theatre as possible – as much as his finances would allow – and eventually started working in the amateur theatre division at Studio 3 in Stockholm.
His stage debut was no huge success, but regardless, Malmsten was determined to become an actor. After military service, he worked in the restaurant branch whilst studying psychology and stage performance, where he came into contact with the Student Theatre. In 1943, he attempted to get in to the Royal Dramatic Theatre acting school but was not accepted, and continued scraping by playing small parts and working as a film extra. Malmsten first came into contact with Ingmar Bergman in 1943 during the Student Theatre production of Just Before Awakening, where Bergman, according to Malmsten, reluctantly accepted his presence. A few months later, Bergman cast him in his first major professional stage role as the Woodcutter in Little Red Riding Hood. 
Malmsten's filmic debut arrived in 1944 in Torment. The same year, Bergman was hired as Head of Helsingborg City Theatre, and Malmsten followed him there. After some time in Helsingborg, he was involved with Blanche Theatre and from 1962, worked at the Royal Dramatic Theatre. Between 1960 and 1963 he was a member of a TV theatre ensemble, and acted in Bergman's TV version of A Dream Play. He also co-owned a local cinema during the 1950s along with Kenne Fant and model Haide Göransson, whom he married in 1951.
Alongside Bergman, Malmsten developed his own unique acting profile, and towards the end of the 1940s, Malmsten was the closest of any actors to play Bergman's alter ego in film. His gloomy, fierce, quavering aura and intense gaze became synonymous with the image of the restless post-war young man, apparently drifting aimlessly yet with an intense longing for something other than his current predicament. Malmsten and Bergman were also personal friends during this time, and in the spring of 1949 they travelled to the French Riviera together, as is described in The Magic Lantern.
The theatre roles he played for Bergman during the 1960s, 70s and 80s became smaller and smaller, the final one being a servant in Bergman's 1984 staging of King Lear. He acted in his final Bergman film in 1976, playing a rapist in the TV series Face to Face. As he got older, he increasingly came to play distinguished older men, one of his final big roles being the genteel, tolerant landlord in the 1987 Swedish TV series 'Goda grannar'. Birger Malmsten passed away in Stockholm on 15 February 1991.