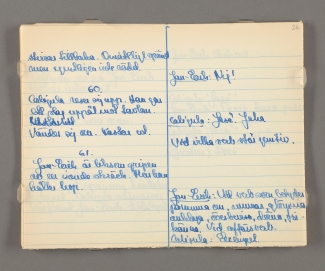 About the text
Directed by Alf Sjöberg, Torment was a great success.  
Close-up of Caligula. He is staring at Jan-Erik through a magnified spectacle.
Silence
Caligula: Has Sir Widgren done his homework? 
Jan-Erik: Yeah, I have.
Caligula: I believe (whispers). I believe that Sir Widgren - is lying!
Jan-Erik: No, I am not!
Caligula: I see.
E:001
[30] p. ; 29 x 22 cm
Typewritten script (carbon copy) with handwritten notes. 'Lessebo'.