Unto My Fear
Barely a year had passed since Bengt Ekerot's radio version of Bergman's The Day Ends Early when Åke Falck directed Unto My Fear, again for the radio.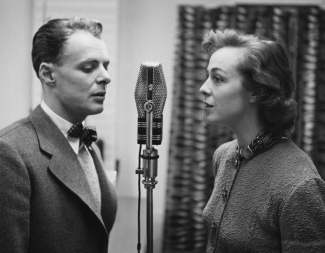 About the production
This play premiered at Gothenburg City Theatre in the autumn of 1947. In the programme notes to that production, Bergman wrote an introduction that originally served as a foreword to the play. The young Tobias was revealed to be the author's alter ego. The drama is written as a young man's attempt to come to terms with life's daunting ways, who with the passing of time is transformed from a rosy-cheeked, bright young man into a despicable adult, where faith has been replaced by spiritual vacuousness.
Sources
The Ingmar Bergman Archives.
Collaborators
Sven Lindberg

, Paul

Maj-Britt Nilsson

, Kersti

Gunnel Broström

, Irene

Märta Arbin

, Grandmother

Sif Ruud

, Mean

Georg Funkquist

, Erneman

Olof Sandborg

, Isak the jew

Olle Hilding

, Carl

Lars Ekborg

, Tobias

Hans Lindgren

, Anders

Ingmar Bergman

, Author

Åke Falck

, Director