Who's Afraid of Virginia Woolf?
Bergman was quite new as director of The Royal Dramatic Theatre when he directed his first performance in two years, the European premiere of Edward Albee's Who's Afraid of Virginia Woolf?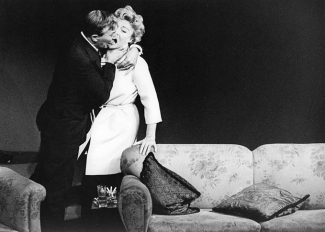 'A shaking, spiritual striptease-act and a deep critique of civilization.'
About the production
Harry Schein had already in 1961 claimed that Albee's ambition as a playwright touched base with Bergman's films in its focus on loneliness and a need to establish communication, and in a deliberate striving to both entertain and shock. And when a race among European theatres to be the first to stage Who's Afraid of Virgina Woolf took place, Ingmar Bergman won. Edward Albee was supposed to come to the opening of his play at The Royal Dramatic Theatre, but called in at the last moment.

Bergman's setting for Albee's play exposed a rather abstract room in black and grey tones, colourless inner landscape reminiscent of his black-and-white filmmaking at the time.

The Albee production coincided with the opening of Bergman's film The Silence and became part of a debate about his use of sexual explicitness on stage and screen. The explicitness of the performance was commented upon by among others Ebbe Linde in Dagens Nyheter. 'His old frenetic temper got fired up from time to time [...] When [Albee's] text lets someone sink to the floor, [Bergman] has her stretched out, hammering her fists; a prescribed kiss [...…] becomes a near rape.'
Sources
The Ingmar Bergman Archives.
Birgitta Steene, Ingmar Bergman: A Reference Guide, (Amsterdam University Press, 2005).
The critics were not kind to Albee's text, which they found to be a virtuoso piece of theatrics based on a witty absurdist dialogue, but diffuse and pretentious. At times the criticism spilled over to include Bergman's production or at least his choice of play.
The toughest critic was without a doubt Allan Fagerström, who in Aftonbladet wrote:
What a hangover on the day of reckoning! Edward Albee's, when he has to motivate this ideological trash, Ingmar Bergman's, when he must explain why he exerted himself to show this artistically sterile package ahead of everybody else in Europe, and Harry Schein's, when he claims that this is socially explosive stuff. MY GOD, has everyone in decision-making forgotten what is dangerous? Is it as simple as saying 'fuck-you' at Dramaten?
One of the few exceptions was Ove Sandell, who among others called the performance a scenic knock-out in his review in Arbetet.
Collaborators
Georg Rydeberg

, George

Karin Kavli

, Martha

Thommy Berggren

, Nick

Bibi Andersson

, Honey

Beata Bergström

, Stills photographer

Edward Albee

, Author

Karl-Axel Stridh

, Stage manager

Arne Lundh

, Make-up and wigs

Ingmar Bergman

, Director

Lenn Hjortzberg

, Assistant director

Georg Magnusson

, Designer

Östen Sjöstrand

, Translation