Woman Without a Face
Directed by Gustaf Molander, screenplay by Ingmar Bergman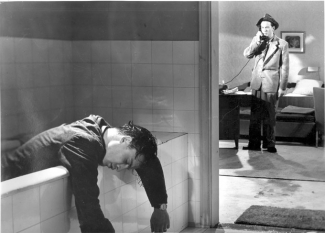 "[...] always inspired, made sparkling by a very youthful genius with all the demons of stage and screen in his blood."
About the film
Woman without a Face was the first Bergman screenplay to be filmed by Gustaf Molander, one of Sweden's most industrious ever directors, with seventy films to his credit between 1920 and 1967. Nevertheless, the film was received as if it was a work by Bergman himself.
C B-n in Dagens Nyheter:
Ingmar Bergman's Woman without a Face is the work of a poet. Somewhat uneven and erratic on occasions, delightfully immature at times, often raising a question mark. But almost always inspired, made sparkling by a very youthful genius with all the demons of stage and screen in his blood. Ingmar Bergman is of the same ilk as Hjalmar Bergman and Mauritz Stiller. He is the face of film in the 1940s –in his generation he shares an affinity with Lars Ahlin and Stig Dagerman, not forgetting Anders Ek.
Stig Almqvist in Aftontidningen:
As a portrayal of people in an exceptional mental state, seriously or chronically disturbed, Woman without a Face is unparalleled in its heated sensitivity. It registers itself swiftly and with vigour, and though Gustaf Molander's remarkably perceptive interpretation of the screenplay, Bergman's personality – a troubled, self-destructive genius, a sparkling dynamo, a rapier-like dexterity, a razor's edge that causes blood to trickle through the scenes – an incomparable display of this cinematic bolt of lightning's repertoire of shocks – one of them, and not the least astounding, is the bizarre gallows humour which breaks though in many of the lines, in film dialogue that Bergman writes more mischievously and expressively than anyone else in the world! And the story's vignettes are irresistible – just think of the chimney-sweep interlude!
V H in Arbetaren:
'From the sublime to the ridiculous is only one step', Napoleon is reported to have remarked as he marched away from Moscow. Never has one witnessed anyone tripping on that step so many times in two hours as Ingmar Bergman does in this film. Almost as often as Alf Kjellin staggers between his loving wife, the deadly serious Anita Björk, and the Woman of Destiny with a capital W and a capital D, the intoxicatingly lecherous and smirking Gun Wållgren. The sublime in this case was Gun Wållgren, the ridiculous (yet oh so boring) was Anita Björk, because things are so topsy-turvy that one laughs heartlessly at what is most sombre, and in response to the loudest laughter one becomes profoundly serious. If only Ingmar Bergman would realise this, above all understand it! Or if at least he were willing to realise that under no circumstances should he allow a screenplay to be filmed by Molander!
Sources
The Ingmar Bergman Archives.
Distribution titles
Kvinden uden ansigt (Denmark)
Kvinnen uten ansikt (Norway)
Nainen ilman kasvoja (Finland)
Working title: Kvinnan utan ansikte or Puzzlet som var Eros
Production details 
Production country: Sweden
Distributor in Sweden (35 mm): Svensk Filmindustri, Svenska Filminstitutet
Laboratory: FilmTeknik AB
Production company: Svensk Filmindustri

Aspect ratio: 1,37:1
Colour system: Black and white
Sound system: AGA-Baltic
Original length (minutes): 102

Censorship: 072.040
Date: 1947-07-09
Age limit: 15 years and over
Length: 2800 metres

Release date: 1947-09-16 Röda Kvarn, Stockholm, Sweden, 101 minutes
Filming locations
Sweden (1947-02-03-1947-02-20)

Filmstaden, Råsunda
The railway station, Märsta
Music
Title: Night and Day
Composer: Cole Porter (1932)
Lyrics: Cole Porter (1932)
Comment: Instrumental.

Title: Night Music
Composer: Arne Gustafsson
Comment: Instrumental.

Title: Romans
Composer: Erik Johnsson
Instrumentalist: Stig Olin

Title: Tis the Last Rose of Summer Alternative title: The Last Rose of Summer
Composer: Thomas Moore (efter en irländsk folkmelodi)
Instrumentalist: Åke Grönberg
Collaborators
Alf Kjellin
Gunn Wållgren
Olof Winnerstrand
Marianne Löfgren
Georg Funkquist
Åke Grönberg
Linnéa Hillberg
Sif Ruud
Carl Reinholdz
Karl Erik Flens
Ella Lindblom
Björn Montin
Wiktor "Kulörten" Andersson
Artur Rolén
Carl-Axel Elfving
Carin Swensson
Arne Lindblad
David Erikson
Lasse Sarri
Torsten Hillberg
Ernst Brunman
Gun Adler
Sven Ström
Georg Fernquist
Inga Gill
Sven Arvor
Hans Bjerkeling
Carl-Olof Ek
Svea Holst
Arne Åkermark

, Art Director

Nils Svenwall

, Art Director

Jarl Nylander

, First Assistant Cameraman

Aaby Wedin

, Boom Operator

Åke Dahlqvist

, Director of Photography

Alva Lundin

, Titles

Harry Malmstedt

, Unit Manager

Oscar Rosander

, Film Editor

Victor Sjöström

, Artistic Advisor

Lennart Unnerstad

, Production Mixer

Gustaf Molander

, Screenplay

Erik Nordgren

, Music Composer

Julius Jacobsen

, Music Composer

Eskil Eckert-Lundin

, Orchestra Leader

Harald Molander

, Production Manager / Production Coordinator

Lars-Eric Kjellgren

, Assistant Director

Lucie Kjellberg

, Script Supervisor

Louis Huch

, Still Photographer

Ingmar Bergman

, Idea