[Workbook No. 6]
Workbook containing manuscripts for four plays, among other things.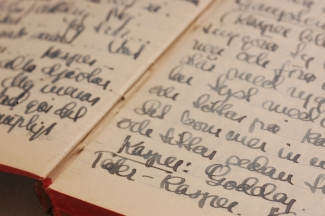 About the text
The Death of Punch and The Fun Fair were both realised as plays. "The Full Moon" has its beginnings here, and is continued in [Workbook no 7].
The theme of death here is certainly familiar. The Seventh Seal, anyone?
A voice: Please, if you could keep it down. We're not used to theatre people here.

Punch: No? No, of course not. How boring. What incredibly dreary people I seem to have been stuck with. Am I going to have to sit in this box for the rest of my life? Ugh! Or maybe this is it? An eternity where nothing happens. Eternity. E-ter-ni-ty. ETERNITY. So, I guess this is great hereafter. I've got to tell you, it's kind of a disappointment.
F:099
approx. [290] p. ; 21 x 17 cm.
Black notebook with set design sketch. Four manuscripts: "Kasper får besök", 41 p., "Tivolit" approx. 80 p. + scene I, IV and VI on separate paper, 46 p.  "The Station" play in 3 acts. "Kaspers jordafärd" 93 p., "The Full Moon" 40 p. (continued in [Workbook No. 7]). Many loose pages.