Elin Klinga
Charismatic stage and screen actress with an aloof acting style. Appeared in five of Bergman's late stage productions, most notably in Enquist's The Image Makers and Euripides' The Bacchae.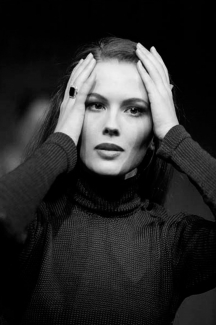 Elin Klinga
Charismatic stage and screen actress with an aloof acting style. Appeared in five of Bergman's late stage productions, most notably in Enquist's The Image Makers and Euripides' The Bacchae.
'[...] Ingmar Bergman's concept of the theatre standing barefoot - body and soul - on the stage.'

Margareta Sörenson on Klinga in The Image Makers
About Klinga
Born 13 August 1969 in Stockholm, Sweden, to actors Hans Klinga and Malin Ek, Elin Klinga decided, as many other children born into acting families, to not become involved with the theatre. However, after studying at Adolf Fredrik's Music School, she took a drama class at Kulturama before enrolling at the Stockholm Academy of Dramatic Arts at the age of 22.
Elin Klingas' acting roots extend back to her maternal grandparents, world-renowned choreographer Birgit Cullberg and actor Anders Ek, the headstrong theatre personality who worked with Bergman in close to 30 productions.
Ingmar Bergman had a great deal of influence on Elin Klinga's acting career. As a brand-new actor fresh on the scene in 1994, she was hired at the Royal Dramatic Theatre, where she instantly joined Bergman's staging of Mishima's Madame de Sade, replacing Marie Richardson.
From this point on, Klinga acted in a number of Bergman's theatre productions. In a review on her performance as Dionysos in Euripides' The Bacchae, Leif Zern wrote in Dagens Nyheter that 'Elin Klinga possesses the presence of a big-time actress'. This came as great feedback, quite a reasonable breakthrough for a 27-year-old actress who had stepped in right before the premiere to replace an overworked Thorsten Flinck. The fact that a woman played the role of Dionysos most certainly gave the play an entirely different feel than if Flinck had acted in the role.
In an interview with Henrik Sjögren, Bergman admitted that by casting Elin Klinga in the role, he was taking a risk, yet one which turned out to be tremendously rewarding. And they continued working together. Klinga's next role was as an understudy of the marchioness in Witold Gombrowicz's Yvonne, Princess of Burgundy, a role which Klinga took over from Kristina Törnqvist in 1996.
In 1998 Elin Klinga played a widely praised Tora Teje in Per Olov Enquist's The Image Makers, once again under Bergman's direction. In 2000 Bergman turned The Image Makers into a TV film. Numerous critics commented on how the acting between Elin Klinga and Anita Björk was even more refined than it had been on stage. This time round, Klinga's Tora Teje was a bit more toned down, allowing for a better balance between the two characters and allowing space for the textual nuances.
Later that same year, it was time for the premiere of Bergman's fourth production of Strindberg's The Ghost Sonata, with Elin Klinga playing the Young Lady. According to Expressen's Gunilla Brodrej, she acted '[...] with a milky-white, empty look in her eyes, strangely empowered despite her ailing frame.'
This production gave a guest performance in 2001 at the Brooklyn Academy of Music (BAM) in New York City. The New York Times was no less impressed by Klinga's performance. 'Ms. Klinga [...] gives an astonishing physical performance, in which balletic grace suddenly degenerates into tics and spasms.'
From having almost exclusively worked in dramatic classics from the onset of her acting career, Elin Klinga has made a gradual transition to more contemporary theatre. Klinga remains with the Royal Dramatic Theatre, but is more often witnessed on the theatre's more experimental stage – Elverket –where she has played major roles in plays by Michel Houellebecq, Sarah Kane and Astrid Trotzig.
Klinga is best known in the film world for her role as the empress in The Glass-Blower's Children.