Erik Hell
Distinctive looking and expressive actor who made a lasting impression with performances in Ingmar Bergman's A Passion and The Ritual.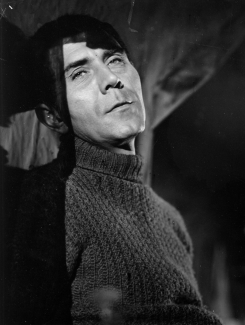 Erik Hell
Distinctive looking and expressive actor who made a lasting impression with performances in Ingmar Bergman's A Passion and The Ritual.
'If Hell so much as walked across the stage, one witnessed the passing of human destiny.'

Erland Josephson in Svenska Dagbladet 1973
About Hell
Erik Hell was born 11 August 1911 in Kalliokoski, Finland. With his Norwegian father working as a glassblower, Hell had his beginnings in a glassworks. When the Finnish Civil War started in 1918, his family decided to move to Småland, Sweden. Hell initially followed in his father's footsteps, taking employment as a glass-cutter at the Emmaboda glassworks, where he worked for the following 15 years, until his interest in the theatre surpassed his interested in glass.  
In an interview with the Göteborgs-Tidningen, he explained how this decision came about. 'I borrowed some travel money one day and went to Nybro, where a theatre ensemble was on tour. I asked one of the actresses if there was any point in longing to be an actor. She replied, "As long as you believe you have something to give, never stop believing."'
This actress was none other than Pauline Brunius, who became Head of the Royal Dramatic Theatre three years later. Their encounter inspired Hell to join an amateur theatre company in Emmaboda, where he acted in amateur revues. Soon thereafter, he left his former life behind and began studying theatre with drama instructor Julia Håkansson in Stockholm. He was accepted to the Royal Dramatic Theatre Acting School in 1939, and was at that time the oldest student to ever be accepted. After his studies, he was hired at the national theatre. He spent a few years bouncing around between the Helsingborg and Norrköping-Linköping City Theatres, eventually returning to the Royal National Theatre, where he remained until his death.  
During the course of his career, he worked with many of Sweden's major directors of the time, and in an interview with Göteborgs-Tidningen, he expressed his gratitude to some of them. 'A director can mean a lot to an actor, providing support and a sense of security. He can also destroy this feeling just as easily. I can't say precisely who helped me more – Alf Sjöberg or Ingmar Bergman. I am unable to decide.'
Hell made his film debut in 1940, playing a minor role in Alf Sjöberg's Den blomstertid… and from this point on he was involved in some 70 films and TV productions. He played characteristic roles for Bergman, most noteworthy in The Ritual and A Passion. In The Ritual, he played Judge Abrahamsson, a role closely related to Gunnar Björnstrand's Doctor Vergérus in The Magician, an official who with a particular sort of sadism and controlled fervour, leads an obscenity trial against the acting trio who comes to town. In A Passion, he played the part of recluse Johan Andersson, who is accused of being behind the many sadistic animal murders taking place on the island.
Some of Hell's most memorable additional film roles include as a disciplinarian in Ride Tonight!, Aron in On These Shoulders and farm worker Torsten in One Summer of Happiness. Whilst employed at the TV theatre, he gave an acclaimed performance in the role of the cavalry captain in Keve Hjelm's Fadren from 1967 and was referred to as 'TV theatre's greatest asset'.
Hell is probably best known for playing strict, resolute characters. He took his job very seriously, as he expressed in this 1970 interview. 'You see, if one is going to truly do this job, one must dispense of oneself. And that is painful. One outgrows oneself. This is the real deal. One cannot walk around the stage 'making a point'. In this case, do something else, if you know what I mean.'
Between 1960 and the time of his death in 1973, Erik Hell was married to actress Öllegård Wellton.
Erland Josephson wrote in Hell's obituary in Svenska Dagbladet:
Erik Hell was a very well-equipped actor. He entered the field at quite a late stage, bringing with him a certain life experience that was unusual for theatre students, emanating such rich know-how, such thorough labour, longing and suffering which contributed to his unique acting style, pervading his entire artistic life. […...] His face was a special asset in all acting media – film, television and theatre. It contained a sort of graceful weight, carrying signs of all ages – despite his facial lines of wear and tear, one could still clearly witness the child in his features. The same thing went with his tone of voice which could be both bitter and sweet. If Hell so much as walked across the stage, one witnessed the passing of human destiny.