Ingrid Thulin
Along with Greta Garbo and Ingrid Bergman, one of the biggest international actresses to emerge from Sweden. Often cast by Bergman as harrowing and desperate characters, complete with a full range of intense emotional shifts.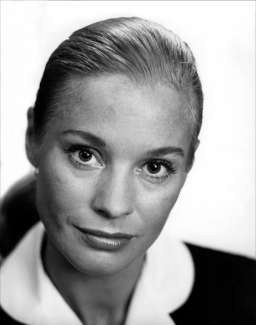 Ingrid Thulin
Along with Greta Garbo and Ingrid Bergman, one of the biggest international actresses to emerge from Sweden. Often cast by Bergman as harrowing and desperate characters, complete with a full range of intense emotional shifts.
'Ingrid Thulin is one of the really great actresses of our time. Like a jealous co-worker once expressed: She is married to the camera.'

Ingmar Bergman in Images
About Thulin
The daughter of a fisherman, Ingrid Thulin was born on 27 January 1926 in Sollefteå. At age 17 she moved to Stockholm where she entered the Påhlmans Commercial Institute and began work as an office clerk. On the side she began drama studies with Gösta Terserus and Willy Koblanck and dance with Lalla Cassel. In 1947 she was discovered by Johan Falck, who engaged her at the Norrköping City Theatre. A year later Thulin gained a place at the Royal Dramatic Theatre drama school, which she attended between 1948–50. Having finished her studies, she stayed on at Dramaten for a further two seasons.
Thulin made her film debut in 1948 in Egil Holmsen's Känn dej som hemma. A number of minor roles followed during the 50s prior to her meeting Ingmar Bergman, at the time artistic director of the Malmö Municipal Theatre. Her first Bergman film was Wild Strawberries, in which she played the part of Marianne, Isak Borg's daughter-in-law. For her next Bergman film, Brink of Life, she shared an acting award with her co-stars Eva Dahlbeck, Barbro Hiort af Ornäs and Bibi Andersson at the Cannes Film Festival. After this she was frequently cast by Bergman in complex roles in which her physical beauty was often hidden. The actresses herself stated: 
"I was quite tired of the entertainment Arne Mattsson made me perform, where I had to run blonde and beautiful through a meadow hand in hand with a young man. Bergman made me so ugly as soon as he clapped eyes on me, so I didn't need to feel that I was putting on a show. Those difficult, psychological roles suited me better."

Between 1948 and 1957 she made 16 films with directors Åke Ohberg, Rolf Husberg, Hasse Ekman, Göran Gentele, Arne Mattsson and Stig Olin. She took part in five episodes of Foreign Intrigue, an US television series shot in Sweden (1954–56), and played the female lead in Alf Sjöberg's The Judge. 1960-62 Ingrid Thulin worked at the newly-established Stockholm City Theatre, where she played the title role in Miss Julie opposite Anders Ek, under the direction of Birgit Cullberg.

Involvement in some of Bergman's most successful films paved the way for an international career. She appeared in Vincente Minnelli's Four Horsemen of the Apocalypse, in which her lines were dubbed by Angela Lansbury. The director Alain Resnais cast her in La guerre est finie, shot in Spain and Italy, and she played one of the leads in Luchino Viscontis The Damned. In Sweden she played the mother in Mai Zetterling's Night Games, in which she was reunited with Jörgen Lindström, the child actor from The Silence (and Persona). She also appeared in Yngve Gamlin's The Bathers.

From 1952 to 1955 Ingrid Thulin was married to the theatre director Claes Sylwander, and from 1956 to 1989 to the man behind the Swedish Film Institute, Harry Schein. During the 1950s, Bergman felt that Schein wrote insultingly about his films, and when Schein and Thulin got married, he appeared to take pleasure in engaging Thulin, thus forcing Schein to commute between Stockholm and Malmö. By the 60s and 70s, however, Schein had become one of Bergman's foremost champions in the heated debate surrounding Swedish film policy at the time (see the section on Cries and Whispers).

Having lived in England, Spain and France, Ingrid Thulin moved to Italy in 1970, where she lived for may years in a splendid yellow villa in Sacrofano, just south of Rome. From her Italian base she worked as a director and drama teacher, all the while continuing to act in films, television and theatre. In 1982 she directed the autobiographically tinged Broken Sky, which won the award for best debut film at the Chicago Film Festival. The film involves a number of actors familiar from Bergman's films, including Thommy Berggren, who plays the alcoholic father, and Margareta Krook, the authoritarian mother. Ten years later Thulin published her memoirs, Somebody I Knew. 

The paradoxes of Ingrid Thulin's personality have been aptly described by Bengt Forslund:
Nobody could be more open than she is, nobody more difficult to pin down. Nobody has been more beautiful than her, nobody can make herself more ugly. Nobody can seem more straightforward, nobody more complex. Nobody has had a more powerful erotic glow, nobody is more capable of playing frustrated females. Nobody can have a more natural presence, nobody can be more intellectually remote.
Ingrid Thulin returned to Sweden at the start of the millennium for cancer treatment in Stockholm. She died on 7 January 2004.
Sources
Bengt Forslund, Bengt Forslund presenterar filmstjärnor: en bok om svenska skådespelerskor i världen, (Stockholm: Alfabeta, 1995).
Myggans nöjeslexikon: ett uppslagsverk om underhållning, red. Uno Myggan Ericson, (Höganäs: Bra böcker, 1989-1993)