Pernilla August
One of Sweden's leading actresses, from the mid-1980s on August was one of Ingmar Bergman's favourites, gaining critical acclaim with her performance as Bergman's mother in The Best Intentions (1992).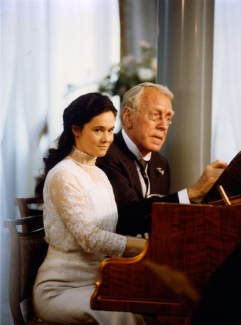 Pernilla August
One of Sweden's leading actresses, from the mid-1980s on August was one of Ingmar Bergman's favourites, gaining critical acclaim with her performance as Bergman's mother in The Best Intentions (1992).
'Pernilla belongs to the unique, of those whose own acting, whose presence on the stage points out the adventurous in life.'

Erland Josephson
About August
Mia Pernilla Wallgren was born on 13 February 1958 in Stockholm, Sweden. She began her career as a child actor at Vår Teater when she was eight years old. During her years in upper secondary school, her interest in theatre took the upper hand. She often cut classes to devote her attention to acting, and in 1975 she received her first film role in Roy Andersson's Giliap.

After graduation, she worked with physically challenged children but took up acting again and was accepted at the National Academy of Acting in Stockholm in 1979. She was offered the role of the limping nursemaid in Ingmar Bergman's Fanny and Alexander when she was still a student. The same year the film premiered, she married author Klas Östergren and took his name.

After graduating from the National Academy of Acting, she was employed by Gävle Folk Theatre from 1983-84. In 1986 she moved on to The Royal Dramatic Theatre. The following year, she played Ophelia in Bergman's production of Hamlet. At the guest performance in London, the Financial Times wrote:
Pernilla Östergren's Ophelia is the most touching one can see. A barefoot tomboy in a linen tunic and a wreath of flowers. Her insecurity is carefully reproduced and when she is abused by Hamlet, her inner torment recalls the mentally disturbed young Harriet Andersson in Cries and Whispers. Yes, Östergren's firm yet soft fragility makes one often think about this great Bergman actress.
Her 1980's film roles had a fair amount of innocence to them, such as the role of the illegitimate daughter in Vilgot Sjöman's Hur ska det går för Pettersson? or simply as Ophelia in Ragnar Lyth's controversial TV film Den tragiska historien om Hamlet – prins av Danmark.

Her big breakthrough came with the role of Ingmar Bergman's mother Anna in Bille August's film adaptation of Bergman's script The Best Intentions. When the film version of this TV series screened at the Cannes Film Festival, August was awarded the female acting prize. After shooting the film, she married the director Bille August and took his name.

After this success, she played Bergman's mother twice more in Private Confessions and In the Presence of a Clown. Her parts in Bergman films opened her up for international acclaim, which has largely been confined to TV films and the role of Anakin Skywalker's mother in two of George Lucas' Star Wars films. Her own comment on the innumerable mother roles is, 'Sure, I play mothers a lot. Most women over 40 are mothers. But that I have twice played women who have become mothers through virgin births as with Darth Vader and Jesus, is a little funny.'

She has also played important roles under Bergman's direction at the Royal Dramatic Theatre, including the lead in Maria Stuart and the part of Mrs Helene Alving in Ghosts, Bergman's farewell to the theatre. Bergman reported that she was a determining factor to why he chose to produce certain plays, such as Hamlet and A Doll's House. He stated in an interview for Månadsjournalen that, 'It often happens that actors determine how something comes about. Pernilla had a minor role in someone else's play and I thought, damn, here we have a Nora. And then we did A Dollhouse with Pernilla as Nora.'
In an interview in Göteborgs-Posten, Pernilla August described Bergman as the person who had the most influence on her acting career:
He noticed very early on which gifts I had to develop. He has been with me and influenced my entire life as a woman from 21 to 45,– from Ophelia in Hamlet to Nora in A Doll House to Mrs Alving in Ghosts. He enjoys pushing me forward. I remember so clearly what he did to make me into an adult woman. How he let me try Nora just as a transitional phase. Mrs Alving was her big sister. I have had a hard time being that adult woman. I can see myself as an adult on the stage, but when I step off I have an easy tendency to fall back into girlhood.
She made her debut as a director with the short film Time-Bomb in 2005. In 2010 her first feature length film as a director, Beyond, was awarded the International Critics' Week Award at The Venice international Film Festival and a host of Swedish Guldbagge Awards the following year. 
Sources
Boel Janérus, Svenska Dagbladet, 11 February 1998.
Agneta Söderberg, Månadsjournalen, 2000.
Björn Vinberg, Expressen, 14 June 1987.
Kerstin Wallin, Göteborgs-Posten, 14 October 2006.
Myggans nöjeslexikon: ett uppslagsverk om underhållning, red. Uno Myggan Ericson, (Höganäs: Bra böcker, 1989-1993).
Guldbagge Award (Best director) for Beyond (2011) 

Guldbagge Award nominated (Best script) for Beyond  (2011)

Guldbagge Award nominated (Best Actress) for Miss Kicki (2011)
Cinema Tout Ecran (Best Actress) for Details (2004)
Guldbagge Award nominated (Best Actress) for Details (2004)

Guldbagge Award nominated (Best Supportig Actress) for Daybreak (2004)

Robert Award nominated (Best Supporting Actress) for Day and Night (2004)

Rouen Nordic Film Festival (Best Actress) for Daybreak (2004)

The Berlin International Film Festival's Silver Bear for Outstanding Artistic Achievement (Acting ensemble) for Daybreak (2004)

Litteris et artibus (2002)
The Royal Dramatic Theatre's O'Neill Scholarship (2002)
Blockbuster Entertainment Award nominated (favourite Supporting Actress) for Star Wars: Episode 1 – The Phantom Menace (2000)
Guldbagge Award (Best Supporting Actress) for Där regnbågen slutar (2000)
The Gösta Ekman Scholarship awarded by Teaterförbundet (1998)

The Chicago International Film Festival's Silver Hugo (Best Actress) for Private Confessions (1997)

Valladolid Film Festival Award (Best Actress) for Private Confessions (1997) 
The Cannes International Film Festival Award (Best Actress) for The Best Intentions (1992)
Guldbagge Award (Best Actress) The Best Intentions (1992)