The Blessed Ones
Bergman's third film based on a script by Ulla Isaksson, following Brink of Life (1958) and The Virgin Spring (1960).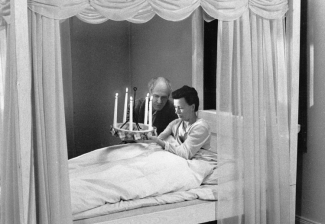 "A melodrama reeking of both sulphur and perfume."

Susanne Marko in Dagens Nyheter
About the film
The story revolves around middle-aged teacher Viveka (Harriet Andersson) and her slightly younger husband Sune (Per Myrberg). Love has made Viveka vulnerable and jealous, inexorably turning their marriage into a pitch black folie a deux.

Following problems with the release of After the Rehearsal, which against his wishes saw cinema distribution abroad, Bergman abandoned the 35 mm format in favour of tv technology. The Blessed Ones was his first outing using this, for him, new format.

The reception was mixed and the film was by turns described as powerful, compassionate or clinical. Francois Ramasse in Positif found it being the darkest in Bergman's oeuvre. 
Sources
The Ingmar Bergman Archives.
Distribution titles
Die Gesegneten (Västtyskland)
Production details 
Production country: Sweden
Production company: Sveriges Radio AB, TV2
Original work: De två saliga (Novel) by Ulla Isaksson

Colour system: colour
TV screening: 1986-02-19, TV2 Sweden, 81 minutes
Collaborators
Per Myrberg
Christina Schollin
Lasse Pöysti
Irma Christenson
Björn Gustafson
Pelle Norén

, Director of Photography

Sylvia Ingemarsson

, Film Editor

Ulla Isaksson

, Screenplay

Birgitta Bensén

, Production Designer

Ingmar Bergman

, Director