The Castle
Bergman does away with set pieces and presents a heavily scaled-down production of Franz Kafka's The Castle.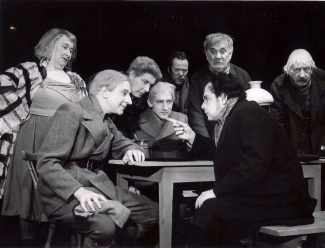 'It hit me that one required nothing more, no lighting, nothing - nothing more than the performer. So simple.'
About the production
Bergman displayed an almost empty stage: a few chairs, a table, and some projected images on the back wall reminiscent of an unreachable castle or spiritual wasteland. The lighting was a form of dreamlike clair-obscure in black, grey, and white tones. The overall effect was that of an expressionistic nightmare. The critics reacted with enthusiasm - in DN they termed the production a new feather in the cap for Malmö City Theatre.
Sources
The Ingmar Bergman Archives.
Birgitta Steene, Ingmar Bergman: A Reference Guide, (Amsterdam University Press, 2005).
For years Bergman had been greeted as Sweden's most promising but also most juvenile director. At age 35 he was finally said to have reached maturity as a stage director.
Four distinct features in Bergman's work at Malmö now began to crystallize in the critical response:
- He coupled artistic energy and discipline with an ability to transform the written word into dramatic performance.
- Bergman's work was based on a careful and sensitive reading of the dramatic text.
- He displayed an unusual visual and acoustic creativity.
- He showed a remarkable ability to get the performers to excel.
Collaborators
Toivo Pawlo

, K

Folke Sundquist

, Schwarzer

Arnold Sjöstrand
Jullan Kindahl
Rune Turesson

, Arthur

Nils Eklund

, Jeremiah

Björn Bjelfvenstam

, Barnabas

Eva Stiberg

, Olga

Harriet Andersson

, Amalia

Oscar Ljung
Nine-Christine Jönsson

, Frieda

Berit Gustafsson

, Mizzi

Georg Årlin

, The teacher

Frans Oscar Öberg
Josef Norman
Nils Nygren
Mona Dan-Bergman
Max Brod

, Author

Ingmar Bergman

, Director

Per Falk

, Designer