Divine Words
Bergman returns to Gothenburg City Theatre after a year away with the first Swedish staging of Spanish playwright Ramón María del Valle-Inclán's macabre Goya-inspired burlesque.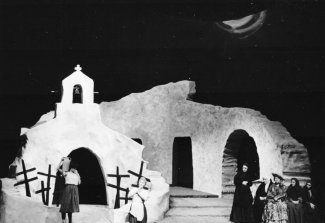 'Moralists from across the city, unite! Here some things are said and done!'
About the production
The stage setting foreshadowed the desert procession in Bergman's TV film Fanny and Alexander more that 30 years later, with its cavalcade of beggars, itinerant performers and pilgrims traversing the Iberian landscape.
This was termed both a sensational and trying production. The critical consensus was that Bergman had achieved a visual tour de force. 'One's eyes are busy all evening long, watching more or less impassioned images, [...] a strange series of wild and nauseous, painful and solemn scenes. [...]"
Sources
The Ingmar Bergman Archives.
Birgitta Steene, Ingmar Bergman: A Reference Guide, (Amsterdam University Press, 2005).
Olof Lagercrantz in Dagens Nyheter objected to the Swedishness of the actors. According to him, they did not have 'enough spice in their temperament to give the right pungent flavours that Spanish popular dishes deserve'.
Another critic wrote that this rather demanding and sensational production would not be a popular one, regardless of its impressive stage design. 'Should the audience stay away, they cannot be blamed. There has to be a certain limit to what the administration can demand in terms of receptivity by those sitting in the theatre, even if one presents a spell-binding spectacle of sophisticated technical stage features.'
Divine Words is a macabre, Goya-inspired burlesque set in Spain at the turn of the century. Mari-Gaila is married to Pedro Gailo and they have a daughter, Simonina. Mari-Gaila is a very beautiful woman who has every man falling at her feet. Even the local blind man is bowled over by her as she tours the pubs dancing for the men. The women in the village are scandalised by her behaviour, being so friendly with the men, but curiously, they have a certain respect and admiration for her. All except Pedro's sister, Marica, who feels that Mari-Gaila has brought shame on the family.
Pedro has two sisters, Marica, a widow, and Juana, also a widow who has a severely mentally and physically disabled son, Laureano. As was the tradition at this time with such people, Juana takes to the road with her son, showing him off as a freak at various fairs around the country and generally making a fortune out of him. When Juana is taken ill on the road and dies, there is a fight amongst her family as to who will care for Laureano, each knowing that he would earn them a fortune.
Eventually it is decided that Marica and Pedro will share the responsibility and take turns to look after him. While she is on the road with 'the cart', Mari-Gaila is introduced to the Seventh Miau, a mysterious fellow who has the ability to see into the future. They fall in love, but when Laureano dies and their affair is discovered, Mari-Gaila's world falls apart as she is tortured by the locals.
Collaborators
Kolbjörn Knudsen

, Septimo Mjau

Ulla Malmström
Maria Schildknecht

, Juana the beggar

Herman Ahlsell

, Laureano

Yngve Nordwall

, Pedro Gailo

Karin Kavli

, Mari-Gaila

Maria Siöstrand

, Simonina

Berta Hall

, Marica del Reino

Hjördis Petterson

, Rosa la Tatula

Claes Thelander

, Miguelín el Padrones

Benkt-Åke Benktsson

, Bailiff

Erland Josephson

, Blind man from Gondar

Folke Sundquist

, Lemon water salesman

Ulf Johanson

, The pilgrim

Ulla Jacobsson

, The girl saint

Richard Mattsson

, The girl saint's father

Lisa Lundholm

, Neighbour

Håkan Jahnberg

, Serenín de Bretal

Ove Tjernberg

, Soldier

Ingrid Borthen

, Ludovina

Lars Barringer

, Milón de la Arnoya

Bror Follin

, Quintín Pintado

Berth Söderlund

, Gendarm

Arthur Hultling

, Gendarm

Ramón María del Valle-Inclán

, Author

Roman Maciejewski

, Music

Nils Larson

, Musicians (guitar)

Käthie Strohmeier-Strandberg

, Musicians (guitar)

Ingmar Bergman

, Director

Carl-Johan Ström

, Designer

Ivar Harrie

, Translation