Divorced
Directed by Gustaf Molander, screenplay by Ingmar Bergman and Herbert Grevenius.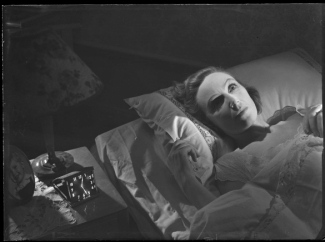 "Everyone who liked Noel Coward's Brief Encounter will also enjoy Divorced."

Lill in Svenska Dagbladet
About the film
Divorced was Herbert Grevenius' fourth collaboration with Ingmar Bergman, and the third Bergman screenplay to be directed by Gustaf Molander. In all the literature produced on the subject of Ingmar Bergman, Divorced has been largely ignored. It appears to be widely assumed that Grevenius and Gustaf Molander exerted the most influence on the film. However, the theme itself – the way to inner balance and freedom through outer trials and tribulations – was recurrent in Bergman's works of the early 1950s, as evinced by To Joy and Summer Interlude.

A majority of the Stockholm critics regarded it as a film that featured a 'delightful' Inga Tidblad, beautiful, cool and sophisticated, under the competent direction of Gustav Molander, but one lacking both true spark and psychological penetration in the characterisation of the main parts.

Lill, writing in Svenska Dagbladet, was pleasantly surprised by Ingmar Bergman's contribution. Older people in Bergman's works had tended to be 'bad and depraved, constantly threatening the happiness of the young, like parasitic worms in fresh meat.' Yet this time the author had written 'beautifully and sympathetically about a forty year-old woman manoeuvred out of her husband's affections, her marriage and her home, standing there as perplexed, confused and helpless as any young person ever was'. 'But', she writes, 'co-writer Herbert Grevenius and director Gustaf Molander have put their own mark on the film, giving it an autumnal, muted tone of resigned wisdom, which is boundlessly benevolent and will appeal to a very large section of the mature audience. Everyone who liked Noel Coward's Brief Encounter will also enjoy Divorced.'
Sources
The Ingmar Bergman Archives.
Distribution titles
Eronnut (Finland)
Fraskilt (Norway)
Fraskilt (Denmark)
Frånskild (Finland)
Production details
Production country: Sweden
Swedish distributor (35 mm): Svensk Filmindustri
Laboratory: Svensk Filmindustris filmlaboratorium
Production company: Svensk Filmindustri
Make up: Firma Carl M. Lundh AB

Aspect ratio: 1,37:1
Colour system: Black and white
Sound system: AGA-Baltic
Original length (minutes): 103

Censorship: 079.392
Date: 1951-09-25
Age limit: Universal
Length: 2820 metres

Release date: 1951-12-26, Röda Kvarn, Gävle, Sweden, 103 minutes
Cosmorama, Göteborg, Sweden
Kaparen, Göteborg, Sweden
Röda Kvarn, Helsingborg, Sweden
China, Jönköping, Sweden
Röda Kvarn, Linköping, Sweden
Skandia, Norrköping, Sweden
Röda Kvarn, Stockholm, Sweden
Röda Kvarn, Uppsala, Sweden
Röda Kvarn, Örebro, Sweden
Filming locations 
Sweden (1950-11-15-1950-12-31)
(1951-02-14-1951-02-21) (complementary shooting)

Råsunda Filmstad, Stockholm, (studio)
Tennishallen, Uppsala, (exteriors)
Music 
Title: Cuban Beguine
Composer: Francis Chagrin
Comment: Instrumental.

Title: Für Elise, pianobagatell, a minor
Composer: Ludwig van Beethoven (1810)
Instrumentalist: Inga Tidblad

Title: Domaredansen
Comment: Instrumental.

Title: Hej, tomtegubbar...
Comment: Instrumental.

Title: Klang, min vackra bjällra
Lyrics: Zacharias Topelius

Title: Räven raskar över isen
Comment: Instrumental.

Title: Nu är det jul igen...
Comment: Instrumental.

Title: Geschichten aus dem Wienerwald, op. 325
Composer: Johann Strauss, jr. (1868)
Comment: Instrumental.
Collaborators
Inga Tidblad
Alf Kjellin
Doris Svedlund
Hjördis Petterson
Håkan Westergren
Irma Christenson
Holger Löwenadler
Marianne Löfgren
Elsa Prawitz
Birgitta Valberg
Sif Ruud
Carl Ström
Ingrid Borthen
Yvonne Lombard
Einar Axelsson
Ragnar Arvedson
Rune Halvarsson
Rudolf Wendbladh
Guje Lagerwall
Nils Ohlin
Nils Jacobsson
Hanny Schedin
Kerstin "Kiki" Bratt
Inga-Lill Åhström
Åke Jensen
Marianne Hylén
Anita Rosén
Kerstin Wibom
Christian Bratt
Gerissa Jalander
Rune Stylander
Margaretha Löwler
Curt Löwgren
Inga Ehrström
Margareta Bergman
Gustaf Hedberg
Gösta Qvist
Gustav Roger
Jonas Albert Jonsson
Eric von Gegerfelt
Birgit Rogner
Arne Lindblad
Haide Göransson
Curt "Minimal" Åström
Jane Antoniazzi
Nils Svenwall

, Art Director

Kalle Bergholm

, First Assistant Cameraman

Theodor Mierzinsky

, Boom Operator

Åke Dahlqvist

, Director of Photography

Oscar Rosander

, Film Editor

Lennart Unnerstad

, Production Mixer

Herbert Grevenius

, Screenplay

Gustaf Molander

, Adaption

Sven Persson

, Re-recording Mixer

Bengt Wallerström

, Music Composer

Erik Nordgren

, Music Composer

Eskil Eckert-Lundin

, Orchestra Leader

Allan Ekelund

, Production Manager / Production Coordinator

Sol-Britt Norlander

, Script Supervisor

Louis Huch

, Still Photographer

Ingmar Bergman

, Screenplay