A Doll's House
In his 1989 Royal Dramatic Theatre production of A Doll's House, for which playwright Klas Östergren created a new Swedish translation, Bergman followed Ibsen's text very closely but made dramaturgical and scenographical changes.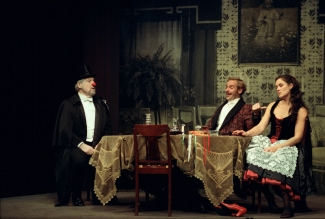 About the production
The main action took place on a raised platform, in a boxlike room with high-placed grated windows, suggestive of a patrician vestibule or a prison cell. Alongside the platform but outside the main acting area, chairs were placed on rows where characters would sit down like silent observers instead of exiting the stage as prescribes in Ibsen's play text. On Hilde's chair sat a doll when she herself was not present on stage. Nora was the only one who never left the acting area.
In a combined rehearsal-press conference interview, Bergman stressed the importance of the child as a tragic figure in a collapsing marriage. (He had received criticism for omitting the children in his own film Scenes from a Marriage.

The Swedish critical consensus was that Bergman had cut certain 'dusty' wordings in Ibsen's play but had stayed very close to its core. Yet he had created, dramaturgically speaking, another play. 'When Ingmar Bergman sets up Ibsen's A Doll House, it becomes a production minted more by the director than by the dramatist'.
Bergman focussed on the psychological aspects of Nora's life and shifted the attention to a relationship tragedy. At times he turned the drama into a triangle drama between Nora, Hilde and Dr. Rank. 'Bergman does not produce and foremost, stage a play that is a debate about women's liberation. [His] subject is nature and love, the stage is as so often in Bergman - a magnetic field where the poles are eroticism and death.'

In sharp contrast to such negative responses to Bergman's Nora, one finds Leif Zern's enthusiastic review. 'Today I am not going to have any inhibitions, for what Bergman has done with A Doll's House is a performance so beautiful, so moving, so incomparably rich that I have to go back to 1969 to find anything similar in his and The Royal Dramatic Theatre's history'.
All the reviewers agreed that this was a production that allowed the performers to overshadow the play's traditional feminist theme. 'Everything exists to give the actors the greatest possible opportunities to depict their roles'.

In keeping with Bergman's increasing tendency to include meta-theatrical features in his stage productions, his A Doll's House included allusions to theatre history and to The Royal Dramatic Theatre tradition. Not all critics appreciated such sophisticated twinkles to an audience with a good theatre tradition. 'Ingmar Bergman seems more interested in talking to Alf Sjöberg and Orson Welles than with us'.
Sources
The Ingmar Bergman Archives.
Birgitta Steene, Ingmar Bergman: A Reference Guide, (Amsterdam University Press, 2005).
Spain, Madrid, 10th annual theatre festival, 14-17 March 1990
The 10th annual theatre festival was also visited by other directors of the same dignity as Bergman, for example Brook, Stein and Wajda. The performance was met with enthusiastic applause.
Italy, Venice, Teatro Goldoni, 16-18 May 1990
The three performances were much praised by both audience and critics. One critic called the performance, 'A rare and perfect evening'.
Norway, Bergen Festival, 26-29 May 1990
'I have seen many A Doll's House performances but none that has made such an impression on me as this one. With simple but ingenious means Ingmar Bergman has made Ibsen's text new and close', one critic exclaimed. Others highlighted Bergman's existential reading of Nora's situation and his recognition of the play as theatrical rather than realistic.
Scotland, Glasgow, Theatre Royal, 7-11 August 1990
In Glasgow, Bergman's A Doll's House was part of Five Theatres of the World, where the other theatres were from Hungary, Indonesia, Japan and the Soviet Union. The Bergman production of Madame de Sade was also part of the festivities.
Norway, Oslo, Nationaltheatret, Ibsen Festival, 5-7 September 1990
The reviewers were impressed by Bergman's cinematic cutting technique and one critic exclaimed, 'Is there such a thing as theatre happiness? It must be what I felt after having seen Ingmar Bergman's staging of A Doll's House'.
Spain, Barcelona, Teatre Romea, 12-14 October 1990
There was a great deal of publicity before the performances.
Denmark, Copenhagen, Det Konglige Theatre, 6-9 February 1991
In Copenhagen the ticket prices were doubled for The Royal Dramatic Theatre production. The critics lifted the fresh approach of Bergman to the 'evergreen' A Doll's House, which brought forward 'the ordinary human' of the play.
USA, New York, Brooklyn Academy of Music (BAM), 18-20 June 1991
A Doll's House visited BAM together with the two Bergman productions Miss Julie and Long Day's Journey into Night. The reviewers were more than enthusiastic and tried to outdo each other in superlatives. 'Leaving the BAM Majestic I felt like a medieval peasant after a feastday, grimly contemplating his return to the workaday world'. Another wrote, 'Here was …an aging master, at the height of his power, being served loyally by executants equally high in artistry, making a statement that was at once aesthetically decisive, in touch with the past, and wholly alive to the outside world. It would be hard to imagine art more complete and transfiguring'.
Collaborators
Per Mattsson

, Attorney Torvald Helmer

Pernilla August

, Nora

Erland Josephson

, Doctor Rank

Marie Richardson

, Mrs Linde

Björn Granath

, Krogstad

Ulla Åberg

, Dramaturgy

Bengt Wanselius

, Stills photographer

Henrik Ibsen

, Author

Stephano Mariano

, Stage manager

Donya Feuer

, Choreography

Gunilla Palmstierna-Weiss

, Costume design

Jan-Eric Piper

, Sound

Thomas Årlin

, Lightning

Daniel Bell

, Musical arrangement

Maria Strid-Johnsson

, Make-up and wigs

Leif Qviström

, Make-up and wigs

Katarina Sjöberg

, Producer

Ingmar Bergman

, Director

Richard Looft

, Assistant director

Stefan Eriksson

, Props

Kaj Forsgård

, Master carpenter

Berit Holmberg

, Prompter

Klas Östergren

, Translation