A Dream Play
Bergman was beginning to view A Dream Play as a life companion, and shortly after staging this, his fourth production of the piece, he begins contemplating his fifth staging.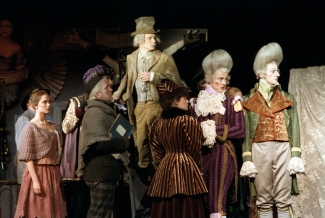 'I recognise many of them.'

Per Erik Wahlund, Svenska Dagbladet
About the production
This two-and-a-half hour production of Strindberg's A Dream Play was about 20 minutes longer than Bergman's 1970 staging. Played without intermission on The Royal Dramatic Theatre's Small Stage, a former movie house, this became a performance frought with frustration. In a Swedish TV interview prior to the premiere, Bergman indicated his doubts about a play 'where some walk about declaring that mankind should be pitied'.
For those who had seen Bergman's 1970 and 1977 versions of A Dream Play, the 1986 production was somewhat of a deja-vu. Seven of the actors had participated in the 1970 production.
Bergman's later words that this, his fourth staging of A Dream Play, lacked real enthusiasm were confirmed in the reviews. 'A distracted Dream Play', said Mario Grut in Aftonbladet. 'The Dream Play is criticized' was the headline of DN's summary of the critical response to Bergman's production. Certainly, with few exceptions the reviews lacked the rave exclamations of Bergman's earlier post-Munich productions.
Sources
The Ingmar Bergman Archives.
Birgitta Steene, Ingmar Bergman: A Reference Guide, (Amsterdam University Press, 2005).
Collaborators
Mathias Henrikson
Oscar Ljung
Ellen Lamm

, Agnes

Linn Oké

, Agnes

Lena Olin

, Agnes

Birgitta Valberg

, Agnes

Stellan Skarsgård

, The officer

Irene Lindh

, The mother

Gösta Prützelius

, The father

Ingrid Boström

, Lina

Kristina Adolphson
Hans Strååt
Kicki Bramberg

, The singer

Lars Väringer
Dennis Dahlsten

, The prompter

Carl Billquist

, Policeman

Per Myrberg
Gerd Hagman

, Kristin

Ingvar Kjellson
Johan Lindell

, Don Juan

Dora Söderberg
Pierre Wilkner
Marianne Karlbeck

, Edith

Frank Sundström

, Blind man

Åke Lagergren
Olof Willgren
Jan Waldekranz
Mikael Säflund

, (unknown part)

Lolo Amble

, (unknown part)

Gertrud Mariano

, (unknown part)

Claes Thelander

, (unknown part)

Per Sjöstrand

, (unknown part)

Ulla Åberg

, Dramaturgy

Herbert Grevenius

, Dramaturgy

August Strindberg

, Author

Ulla Cederlund

, Stage manager

Mait Angberg

, Choreography

Hans Åkesson

, Lightning

Rudi Schuster

, Lightning technician

Daniel Bell

, Music

Eva Maria Holm-Katzeff

, Make-up and wigs

Rolf Linder

, Make-up and wigs

Leif Qviström

, Make-up and wigs

Maria Strid

, Make-up and wigs

Katarina Sjöberg

, Producer

Bengt Wanselius

, Projections

Ingmar Bergman

, Director

Richard Looft

, Assistant director

Stefan Lundgren

, Props

Bengt Larsson

, Master carpenter

Marik Vos

, Designer

Berit Holmberg

, Prompter