The Fun Fair
As with many of Bergman's early dramas, The Fun Fair is a meta-theatrical story, this time following an acting company as they wait for the acting season at the fair to begin.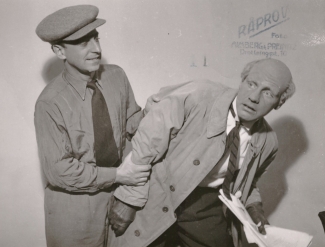 'A banal, Swedish, winter, everyday tale, characteristic of 1940s films, the likes of which Bergman will shortly make.'
About the production
The Student Theatre published a program note titled Around the Student Theatre for the opening of Ingmar Bergman's production of The Fun Fair. The Student Theatre had actually planned a production of Bergman's play Jack Among the Actors, but because of military drafts, the cast was reduced; hence The Fun Fair, a play with fewer characters, was staged instead. Director Bergman was praised on his work, but the playwright considered his production to be 'weak'.
This production was Bergman's first collaboration with Åke Fridell, an actor who came to be of great importance in Bergman's films. The Fun Fair was Bergman's last production for the Student Theatre. As had been the case at Mäster Olofsgården, he left a difficult spot to fill. 
Sources
The Ingmar Bergman Archives.
Birgitta Steene, Ingmar Bergman: A Reference Guide (Amsterdam University Press, 2005).
'...Ingmar Bergman remains a very talented and imaginative director, and there are other authors to choose from.'
PGP in Aftonbladet
Collaborators
Åke Fridell

, Karlsson

Sif Ruud

, Birgit Lundgren

Sten Moberg

, The writer

Birger Malmsten

, Jan Andersson

Anna Tretow

, Lisa

Rune Stylander

, Lindquist

Marianne Nielsen

, Ebba

Erland Josephson

, Boronowsky

Estrid Hesse

, Maria

Palle Granditsky

, The son

Karl-Axel Forssberg

, Alfred

Curt Edgard

, Folke

Rune Bernström
Gun Adler

, Mrs Svensson

Claes Esphagen

, Fredrik

Bernhard Rogin

, Sampo

Hans Ullberg

, Nightwatch

Ingmar Bergman

, Author

Gunnar Lindblad

, Designer