Just Before Awakening
Four future theatre managers act in this play as Bergman, playing a blind violinist donning a fake beard and wig, acts his final role.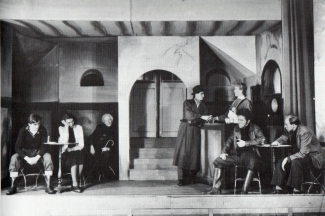 'A little sympathetic play.'

Nils Beyer, Social Democrat
About the production
The author of this one-act play was a student at Stockholm University. His play alluded to the Nazi invasion of Norway and carried the subheading: Drama in one act from an occupied country. The title alludes to the moment when the occupational nightmare is over and the people wake up to a new life.
Bergman said, 'We referred to it as Right Before We Fall Asleep [...] as it was so dull'. He played a blind man, and according to Erland Josephson:
He played a blind old man who just sat there, squinting at the light. This is how the director controlled the lighting. Bergman rose to his feet, pretending to desperately need the toilet, and rushed out to the lighting booth to straighten a bulb. Relieved, the blind man then fumbled back to his place on the stage. With this, Bergman's brief acting career reached its completion.
In a programme note, the Stockholm Student Theatre thanked the professional actors who had joined the student amateurs in the performance. The production was received with warm applause.
Sources
The Ingmar Bergman Archives.
Erland Josephson, Vita sanningar, (Stockholm: Bromberg, 1995).
Henrik Sjögren, Lek och raseri: Ingmar Bergmans teater 1938-2002, (Stockholm: Carlssons Bokförlag, 2002).
Collaborators
Barbro Hiort af Ornäs

, Maria

Birger Malmsten

, Georg

Rune Stylander

, The landlord

Paul Granner

, The unkown man

Erland Josephson

, The fisherman

Hans Ullberg

, The accountant

Sture Ericson
Curt Edgard

, The soldier

Bengt Olof Vos

, Author

Ingmar Bergman

, Director

Gunnar Lindblad

, Designer