The Legend
In his third staging of The Legend, Bergman placed less emphasis on theatrical effects and colourful costumes and focussed primarily on the moral theme of the play and on the cynical old member of the Ehrenstål family.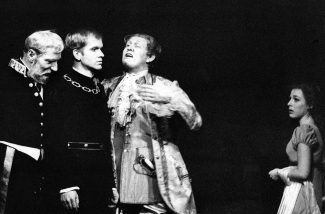 About the production
In the programme note to the Royal Dramatic Theatre production, Hjalmar Bergman's widow, Stina, told a story that might be the genesis of The Legend: At Hjalmar and Stina Bergman's summer residence on Dalarö, there was a well from which a clear spray of water emerged. The innocent young title figure in The Legend shares the purity of the water in the well.

'For many this production will be a surprise, as they get to see what a broad register Ingmar Bergman has as a director,' one reviewer wrote, adding that Bergman was one of the few poetic minds on the Swedish stage. Not everyone agreed.
Sources
The Ingmar Bergman Archives.
Birgitta Steene, Ingmar Bergman: A Reference Guide, (Amsterdam University Press, 2005).
Hjalmar Bergman wrote The Legend in 1919. According to his wife, Stina, it was decided that the play should not be performed until after the death of the pair of them, but Per Lindberg (Hjalmar Bergman's brother-in-law), who knew of the piece, was given permission to stage the play at the Dramatist Studio in Stockholm in 1942.
Many critics have found the piece hard to characterise. Consequently, it is also hard to stage a production that does justice to all its nuances and levels. In certain parts the play has a decidedly lyrical character which, in others, is in stark contrast to a considerably more robust realism that bears witness to the author''s insights into the brutality of life. The plot has the quality of a dream, a fantasy: it is a fairy tale about the light of love in contrast to the blackness of deceit.
The main character is the young girl, Gudrun, who long ago was drowned by her sweetheart, a knight called Sune. A hundred years later she rises up from the water and tries to intervene in people's lives by promoting love. This time round it is the poor girl Astrid who loves Sune the knight. He in turn intends to marry Rose, a daughter of the grandee family Ehrenståhl. Rose, however, loves her cousin Gerard, a spoilt and selfish cynic. Romance blends with a more calculating crassness which results in haggling over feelings. In other words, things do not turn out as Gudrun had planned. But despite the need for a sacrifice on the altar of love, things nonetheless turn out happily in the end.
Many commentators, Ingmar Bergman included, have pointed out the play''s striking similarities with Alfred de Musset's play One Doesn't Trifle with Love.
Collaborators
Uno Henning
Per Myrberg

, Sune Stark

Kristina Adolphson

, Rose

Helena Brodin

, Astrid

Erland Josephson

, Gerhard

Aino Taube

, Colonel's wife

Björn Gustafson
Renée Björling

, Flora

Ragnar Falck

, Notary

Bibi Andersson

, The legend

Beata Bergström

, Stills photographer

Hjalmar Bergman

, Author

Arne Hertler

, Stage manager

Ingvar Wieslander

, Music

Arne Lundh

, Make-up and wigs

Ingmar Bergman

, Director

Sven Erik Skawonius

, Designer

Lars Seligman

, Prompter

Elisabeth Leijonmarck

, Prompter