Long Day's Journey into Night
For The Royal Dramatic Theatre's 200th anniversary and 100 years after playwright Eugene O'Neill's birth, Bergman was asked to stage Long Day's Journey into Night.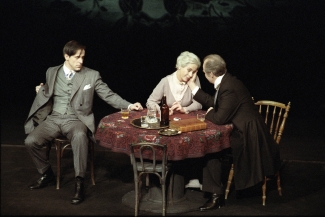 'Outstanding! World theatre, if anything.'

Ingmar Björkstén, Svenska Dagbladet
Guest performances
Norway, Bergen, Bergen Music and Art Festival, 2-5 June 1988
Some of the Norwegian critics were disappointed, and according to them the Swedish press had been overly praising. The production was 'just four very long hours with solid, down-to-earth, conventional quality theatre'. Others were more than satisfied, and called the performance 'an outstanding theatrical experience'.

Italy, Rome, Teatro Argentina, 31 May-4 June 1989
The performance received the Premio Ubu prize as the best foreign theatre production in Italy and the reviews were foremost positive. Some saw it as a 'surgically objective Protestant approach to a Catholic play'.

France, Paris, Odéon, Festival Théâtre en Europe, 7-11 June 1989
Some reviewers questioned Bergman's use of Peter Stormare as his alter-ego and found the performance's acting conventional and mechanical.

Germany, Hamburg, Theater der Welt festival, 20-21 June 1989
The guest performance was part of the biennial Theater der Welt. Many critics saw connections between Bergman's own family and the Tyrone family drama set on stage. The performance was met with thunderous applause.

Spain, Barcelona, 4-8 October 1989
The critics praised Bergman's direction but complained about the length of the performance.

USA, New York, Brooklyn Academy of Music (BAM), 14-16 June 1991
At BAM the performance was part of a triple bill along with A Doll's House and Miss Julie. The production was called 'a very fresh look at a familiar masterpiece', as well as a disappointing, simplified version of the play with its pared-down décor and 'uneven casting'.
Sources
The Ingmar Bergman Archives.
Birgitta Steene, Ingmar Bergman: A Reference Guide, (Amsterdam University Press, 2005).
Not surprisingly, directorial vision and artistic quality rather than timely circumstances determined Bergman's success. On opening night there were standing ovations that would not stop until Bibi Andersson, Jarl Kulle, Thommy Berggren and Peter Stormare stood clapping around an empty chair, to indicate the Bergman would not come up to stage. 

Bergman had never before staged an O'Neill play, though he once had thoughts of producing the nine-act drama Strange Interlude, and had been asked by New York producer Joseph Papp, in the early '70s, to stage an O'Neill production with Liv Ullmann in the lead, but had declined.
In 1988, the 1956 production still lived on as a classical highlight in The Royal Dramatic Theatre's history. Its legendary actors Inga Tidblad and Lars Hansson seemed virtually present in Bergman's cast. Bergman said in an interview, 'Behind Bibi Andersson's voice I can suddenly hear Inga Tidblad's. Behind Jarl Kulle's Lars Hansson's, besides, Kulle can tell us what it was like back then. We are nothing in and of ourselves, we are always part of something.'
In the same interview Bergman talked about the harrowing experience of working with O'Neill's drama:
Early on, when I looked at our task, in a routine fashion, I realized it would not be an easy journey. But I never realized how deeply revolutionary it would be for all of us. The play touches at strong personal experiences in different ways and at the same time it must not become a kind of private striptease. A certain type of drama, for instance Long Day's Journey into Night, has a dark downward attraction. If you finally come down to the level where the demons live who have triggered the drama, you cannot remain free of them. They get to us too.
Bergman reduced O'Neill's text considerably, removing most references to the father's shady affairs and omitting some drunken jokes and various literary allusions.

The unwritten question before Bergman's production was how he would stage the play so that it would have the same impact on the audience as 32 years earlier but without seeming to be raepeat performance. 'Thus Bergman has to find some kind of meaning in the play that exceeds the original performance situation'.
Collaborators
Jarl Kulle

, James Tyrone

Bibi Andersson

, Mary Cavan Tyrone

Thommy Berggren

, Jim Tyrone

Peter Stormare

, Edmund Tyrone

Kicki Bramberg

, Cathleen

Ulla Åberg

, Dramaturgy

Tomas Wennerberg

, Stage manager

Gunilla Palmstierna-Weiss

, Costume design

Jan-Eric Piper

, Sound

Hans Åkesson

, Lightning

Lars Johansson

, Lightning technician

Daniel Bell

, Music

Maria Stridh-Johnsson

, Make-up and wigs

Leif Qviström

, Make-up and wigs

Katarina Sjöberg

, Producer

Bengt Wanselius

, Projections

Ingmar Bergman

, Director

Jan Bergman

, Assistant director

Stefan Lundgren

, Props

Kaj Forsgårdh

, Master carpenter

Britta Olin

, Prompter

Karl Ragnar Gierow

, Translation song lyrics

Sven Barthel

, Translation