Jarl Kulle
One of Sweden's most distinguished stage and screen actors during the 1950s and 60s, Kulle was known for his magnetic charisma and inimitable acting delivery.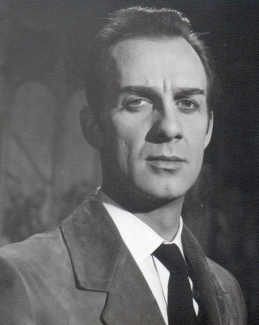 Jarl Kulle
One of Sweden's most distinguished stage and screen actors during the 1950s and 60s, Kulle was known for his magnetic charisma and inimitable acting delivery.
'I adored Jarl as an actor and I still think of him with endless love and admiration.'

Ingmar Bergman
About Kulle
Born Jarl Lage Kulle in Malmöhus County in southern Sweden on 28 February 1927, the son of a butcher. His acting talent was discovered by one of his primary school teachers, and he took elocution lessons to rid himself of his Scanian accent. 
At the age of 16, Kulle competed in the Aftonbladet newspaper's talent contest, and the same year he began studying in Stockholm. He simultaneously worked as an errand boy at a local sports shop, but was fired when he was found reading poetry in the toilet. He eventually received help from back home in order to pursue his studies full-time, and studied at the Gösta Terserus theatre school. In 1946, on his third attempt at entry, he was accepted at the Royal Dramatic Theatre Acting School, where his acting talent was swiftly recognised.
During his time at acting school, he was cast in his first role at Fredriksdal's outdoor theatre in Helsingborg. After graduating in 1949, he was offered a more or less permanent position at the Royal Dramatic Theatre, where he remained for the majority of his career, playing the occasional role at private theatres, where he worked on various other sides of his extensive repertoire. His stage breathrough came in 1950, when playing Don Lissardo in Calderón's The House with Two Doors. Kulle was indoubtably an actor with great magnetism and plenty of technical know-how with a multifaceted repertoire, acting in anything from Shakespeare to O'Neill (he played Edmund in the world premiere of Long Day's Journey into Night in 1956), as well as acting in his fair share of musicals. One of his greatest musical successes was as Professor Higgins in the Oscar Theatre's staging of My Fair Lady during two separate runs, between 1959-1961 and 1977-1979. 
During the 1950s, Kulle was cast in his quintessential role of lover boy in Molière's Don Juan in 1958, on which critic Per Erik Wahlund made the following comment. 'Not a single woman in the audience would deny the fact that he fulfilled the role of the ideal lady's man.' One particular woman went so far as to say that she found it difficult to hear what Kulle was saying, as his costume was so skin tight. Kulle had previously played an awkward Don Juan in 1954 in Chekhov's Poor Don Juan, and returned to the role in both Bergman's The Devil's Eye and in 1976 in the slapstick The Don Juan Family at the Vasa Theatre.
Kulle was a hot topic in the weeklies during the 1950s, and lovestruck girls waited outside the theatres where he performed. The newspapers wrote about his real estate dealings, the horses he owned, his farm in Scania, and eventually his marriage to Louise Hermelin in 1960.

Kulle also managed to prove his worth in film, and acted in his first major role in 1950 in the screen adaptation of Birger Sjöberg's Kvartetten som sprängdes. He first worked with Bergman in Waiting Women, and the pair were reunited in 1955 in Smiles of a Summer Night. Kulle played leading roles in a number of the 1960's most successful films, including Love Mates and Dear John. On a couple occasions, he filled the director's role, with varying degrees of success. 1969's pirate filming of The Bookseller Gave Up Bathing proved to be a considerable success. 1974's Vita nejlikan, on the other hand, with Kulle playing the seducer, was nothing more than an embarrassing flop. Kulle kept his distance from film for the remainder of the 1970s.
In 1982, Kulle had an awe-inspiring comeback in Bergman's Fanny and Alexander, playing Gustav Adolf Ekdahl, a role for which he was awarded a Guldbagge. This role also signalled a new beginning for Kulle's career, and this very same year he returned to the Royal Dramatic Theatre. In 1984 he played the title role in King Lear, the very staging which marked Bergman's return to the Swedish national theatre. Four years later, he once again acted in Long Day's Journey into Night, this time under Bergman's direction and in the role of James Tyrone. One of the most wonderful roles he was to play came towards the end of his life, in the TV production Hemresa by Sven Delblanc, where Kulle played a dying author coming to terms with himself and his life.
Jarl Kulle was an actor to display histrionic tendencies, tending towards the melodramatic. At times his methods were effective, while at others they seemed superfluous. His theatrical personality was both popular and easily imitable, and he sometimes risked becoming a self-parody. When Kulle played the right role for the right director, he certainly proved his weight as one of 20th-century Sweden's leading actors.
In 1979, Kulle published his autobiography Jag Kulle (Me, Kulle), with Eric Wennerholm as ghost writer. On New Year's 1983, he read Tennyson's Ring Out Wild Bells at Skansen park in Stockholm. He also intermittently worked as a professor of set design at the Royal Dramatic Theatre between 1957 and 1958.
Kulle was married to Louise Hermelin from 1960-68 and to Anne Nord from 1976. His daughter, Maria Kulle, is an actress and was awarded a Guldbagge in 2005 for her role in Four Shades of Brown.

Jarl Kulle passed away on 3 October 1997.
The Holberg Medal (1997)

The Swedish Academy's Theatre Award (1994)

The Sydsvenska Dagbladets Culture Award (1984)

Guldbagge Award (Best Actor) for Fanny och Alexander (1983)

The Royal Dramatic Theatre's O'Neill Scholarship (1982)

Litteris et artibus (1982)

The Bodil (Best Actor) for Den kære familie (1963)

FIB Film Award (Best Supporting Actor) for Miss April (1959)

Guldbagge Award (Best Actor) for Wedding: Swedish Style (1965)
The Gösta Ekman Scholarship awarded by Teaterförbundet (1953)

The Svenska Dagbladet Thalia Award (1952)