Niels Ebbesen
Back in Stockholm after a summer of outdoor theatre, Bergman strikes out with his biggest production yet.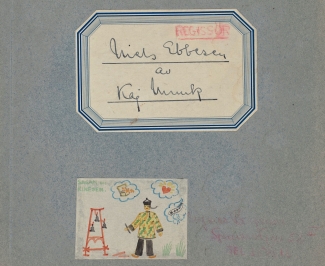 'A successful masterpiece.'

Per Gunnar Pettersson, Aftonbladet
About the production
In 1942, during the German occupation of Denmark in the Second World War, a play about Ebbesen's rebellion was penned by the dramatist Kaj Munk. The Nazis confiscated the play on its day of publication and executed the playwright in April 1944. The German Legation in Stockholm tried to stop the studio production of the play, whilst no other Swedish stage would perform Munk's play at the time of Bergman's production. After Munk's murder, Dramatikerstudion was asked by the Danish Embassy to present a re-run of Niels Ebbesen.
The political timeliness of the Munk production both as an anti-Nazi statement and as a critical challenge of the current Royal Dramatic Theatre policy shared review space with performance analyses. [...…] But Bergman himself was so absorbed in directorial matters that he was hardly aware of any possible political repercussions of his production of Niels Ebbesen. 'I myself didn't understand that there was any risk in it.'
Sources
The Ingmar Bergman Archives.
PGP in Aftonbladet applauded the director:
We were treated to an excellent performace, completely forgetting that right before our eyes a scene of hocus-pocus was taking place, executed by the young director Ingmar Bergman, a gentleman who possesses the gift that each and every thing he approaches - from the actor's performances to the stage floor - becomes big and ample. 
Collaborators
Anders Ek

, Niels Ebbesen

Dagny Lind

, Gertrud

Bibi Lindqvist

, Ruth

Bengt Dalunde

, Ebbe

Karl-Erik Flens

, Ove Haase

Georg Årlin

, Ove Haase

Curt Edgard

, Niels Bugge

Sture Ericson

, Father Lorents

Martin Ericsson

, Father Lorents

Toivo Pawlo

, Count Gerhard

Alf Kjellin

, Vitinghofen

Palle Granditsky

, von Döbelin

Elis Hahne
Sif Ruud

, Peasant

Birger Malmsten

, Young peasant

Kaj Munk

, Author

Else Fisher

, Choreography

Ingmar Bergman

, Director

Gunnar Lindblad

, Designer