Peer Gynt
On a considerably smaller stage with a radically abbreviated text, Bergman returns to Peer Gynt with a clown-like Börje Ahlstedt in the leading role.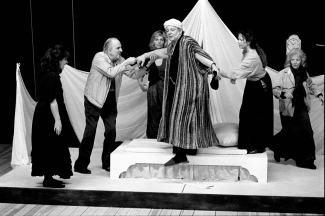 'A breathtakingly shameless theatre experience.'

Tove Ellefsen, Dagens Nyheter
About the production
Bergman's version of Peer Gynt was both an audience and a critical knock-out. It was called Bergman's most imaginative and impudent production and described as a grunting, farting fairy tale thundering through the most diminutive of The Royal Dramatic Theatre stages. Bergman's ability to coordinate a 50-person ensemble in a small physical space aroused critical respect.
In his production of Peer Gynt, Bergman cut about 30% of Ibsen's 5-act drama and divided it into three parts: Tales and Dreams, Foreign Lands, and The Homecoming. The production became a special scenographic challenge in that the Målarsalen stage, where Peer Gynt first opened, is very small and shallow for such an epically conceived play.
The limited acting space was enlarged through the construction of a walkway that extended into the audience, and by a hoisted platform that hovered above the stage and could be moved up and down as well as sideways; it was used as setting and prop for Peer's various predicaments and could simulate a house roof, a raft in a shipwreck, etc.
In a radio programme Bergman described Peer as a mama's boy and super-egoist who did not understand love as a feeling resting on friendship, togetherness, trust and respect. Börje Ahlstedt's Peer was a creature barely saved in the end by a white-haired and blind Solveig (Lena Endre), an esoteric counterpoint to Åse's tough punk mother in the opening scene (Bibi Andersson).
As in his earlier Malmö production, Bergman made no use of music composed specifically for Ibsen's play, for example Grieg. Instead he used the Czech composer Bohuslav Martinus' music. He also borrowed Mozart's three spirits from The Magic Flute and presented them in different forms: as summer farm girls, as belly dancers in the desert, and as a funeral train composed of Peer's unrealized thoughts, unsung songs, and never-shed tears.
"Peer Gynt as a conformist, an artist and Ingmar Bergman's alter ego. The fairy tale is over, the clock is ticking. Death is waiting, and theatre history." (Andreas Rossman, Frankfurter Allgemeine Zeitung)
Sources
The Ingmar Bergman Archives.
Birgitta Steene, Ingmar Bergman: A Reference Guide (Amsterdam University Press, 2005).
Birgitta Steene, Ingmar Bergman: A Reference Guide, (Amsterdam University Press, 2005)
Bernt Olsson and Ingemar Algulin, Litteraturens historia i Sverige, (Stockholm: Norstedts Förlag, 1987).
Henrik Sjögren, Lek och raseri: Ingmar Bergmans teater 1938-2002, (Stockholm: Carlssons Bokförlag, 2002).
Spain, Seville, Lope de Vega Theatre, Word's Fair, 15-18 August 1992
Spain's leading critic called the production 'a performance with the same freshness as if a child would have done it. The same freshness and the same cruelty'.
Germany, Düsseldorf, 12-15 November 1992
One critic saw 'Peer Gynt as a conformist, an artist and Ingmar Bergman's alter ego. The fairy tale is over, the clock is ticking. Death is waiting, and theatre history'.
USA, New York, Brooklyn Academy of Music (BAM), 13 May 1993
Five performances visited BAM. The reception was quite mixed. One reviewer wrote, 'I wish I had the space to describe every brilliant stroke in Bergman's staging', while another simply called it a 'disaster'. Others did not appreciate the burlesque humour and sexual joking of Bergman's approach.
Norway, Bergen Festival, Den Nationale Scene (DNS Theatre), 9-12 June 1993
The critics praised the acting and the vitality of the performance but some were critical to Bergman's 'superficial' reading of the text. Some felt that the clownish character Ahlstedt made of Peer could not stand for the existential tragic ending.
Peer Gynt was written by Henrik Ibsen in 1867. At the time, Ibsen had moved to Rome, having failed as a theatre director in Kristiania, now Oslo. In its form, Peer Gynt was pioneering, a romantic fairy tale with realistic contemporary references. It is easy to see certain parallels with Goethe's Faust, along with echoes of Hans Christian Andersen.
Peer Gynt was originally intended as a play solely to be read, but the text has been proved to function on the stage. Prodigious in length, few directors have dared to stage the piece in its entirety. Most prefer to adapt and shorten the play, which in itself involves interpretation.
The play has often been regarded as a critique of the Norwegian national character, but more generally it is a critique of the distortion of reality brought about by the romantic imagination, and all the failings which this entails. The figure of Peer Gynt is a romantic dreamer and a demonic egoist who is thoroughly exposed in the course of the play. He can be regarded both as the alarming and somewhat ridiculous reverse side of the glamour of the 19th-century Byronic ideal.
Bergman staged two productions of Peer Gynt with a 34-year interval between them. The first, with a youthful Max von Sydow, at Malmö City Theatre, was five hours long. The second, with a middle-aged and jovial Börje Ahlstedt at The Royal Dramatic Theatre, was one hour shorter.
Collaborators
Bibi Andersson

, Åse

Börje Ahlstedt

, Peer Gynt

Carl-Magnus Dellow
Anders Ekborg
Jakob Eklund
Oscar Ljung
Per Mattsson
Gerthi Kulle
Jan Waldekranz
Görel Crona
Gunnel Fred
Kicki Bramberg
Anna Björk
Tord Peterson
Lena Endre

, Solvejg

Agneta Ehrensvärd
Maja-Lena Holmberg
Rebecca Ebbesten
Linda Resén
Emelie Åkerlund
Benny Haag
Thomas Hanzon
Maria Ericson
Solveig Ternström
Kristina Adolphson
Johan Rabaeus
Pierre Wilkner
Björn Granath
Jan-Olof Strandberg
Therese Andersson

, Guest at wedding

Marie Bergenholtz
Jesper Eriksson

, Guest at wedding

Ulf Evrén
Jukka Korpi
Sara Larsson
Pia Mucchiano
Wirpi Pahkinen
Erik Winqvist
Thomas Wrisemo
Per Cederin

, Props

Li Östlund

, Props

Kjell-Inge Stevensson

, Conductor

Ulla Åberg

, Dramaturgy

Bengt Wanselius

, Stills photographer

Henrik Ibsen

, Author

Tomas Wennerberg

, Stage manager

Donya Feuer

, Choreography

Jan-Eric Piper

, Sound

Hans Åkesson

, Lightning

Lars-Erik Johansson

, Lightning technician

Pierre Leveau

, Lightning technician

Bohuslav Martinu

, Music

Futurumensamblen

, Orchestra

Leif Qviström

, Make-up and wigs

Barbro Forsgårdh

, Make-up and wigs

Örjan Mühle

, Make-up and wigs

Katarina Sjöberg

, Producer

Ingmar Bergman

, Director

Irene Frykholm

, Assistant director

Stefan Lundgren

, Props

Claes Snell

, Master carpenter

Roland Åblad

, Master carpenter

Lennart Mörk

, Designer

Anna Jurell

, Assistant designer

Maria Repitsch

, Prompter

Lars Forssell

, Translation