Rabies
Rabies - Six Scenes from Human Life by Olle Hedberg, was one of Bergman's final stagings at Helsingborg City Theatre.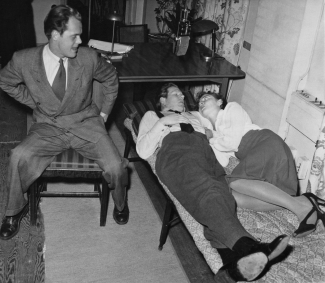 'We are going to pull the floor from under your feet and take you down to horror chambers and dung heaps to peer at the eyeless monsters that hide there.'
About the production
Olle Hedberg published the novel 'Loafing', which included six chapters in dialogue form based around the question: Are the woes of life ameliorated by the wailing of the likes of you? Bergman saw the dramatic potential of Hedberg's work, adapted it for the stage and renamed it Rabies. He also adapted the play for the radio in 1946.
In a programme note Bergman called the play, 'an unpleasant theatre piece' and warned the audience to hold on tight. He justified his focussing on morbid and dark issues by calling them part of the pessimistic climate of the times.
Bergman turned the play into a TV film in 1958.
Sources
The Ingmar Bergman Archives.
Birgitta Steene, Ingmar Bergman: A Reference Guide, (Amsterdam University Press, 2005).
Since Rabies was Olle Hedberg's first presentation on stage, most reviewers focused their attention on the dramatic text. Some critics took issue with Hedberg's cynicism and the deliberately shocking tone of Bergman's adaptation. The reviewer in Skånska Dagbladet wrote:
Bergman and Hedberg have resorted to exaggerations that are much too strong to be taken seriously. ... Rabies shocks more than it warns. It is depressing but does not move. It is not necessary to beat on hell's gate to get us to wake up. A viewer must protest that he or she does not feel at all like a rabies-infected dog who must promptly rush ahead and bite others. 
The DN reviewer made the observation that Hedberg's piece provided a glorious opportunity for Ingmar Bergman to vent his sadistic impulses on the audience. Despite such reservations the production was highly praised as a theatrical event and became in fact a cause célèbre in the Swedish theatre world. Bergman's ensemble was invited to a guest performance in Stockholm after a suggestion made by theatre critic Ebbe Linde in BLM.
Collaborators
Sture Ericson

, Bo Stensson Svenningsson

Carin Cederström

, Jenny

Åke Fridell

, Sixten Garberg

Annika Tretow

, Eivor

Birger Malmsten

, Erik

Dagny Lind

, Aunt

Gunnar Nielsen

, Knut Mosterson

Erland Josephson

, Sven

Bertil Sjödin
Otto Landahl
Curt Edgard

, Rolf

Monica Schildt

, Mrs Svensson (Hälsingborgs Stadsteater)

Maud Hyttenberg

, Mrs Svensson (Radioteatern)

Olle Hedberg

, Author

Ingmar Bergman

, Radio adaptation

Gunnar Lindblad

, Designer