The Restless Heart
Three years after the production at Gothenburg City Theatre, Bergman returns to Jean Anouilh's play about the poor violinist Thérèse (Gertrud Fridh), who after a difficult upbringing can't bear to accept happiness when it finally comes her way.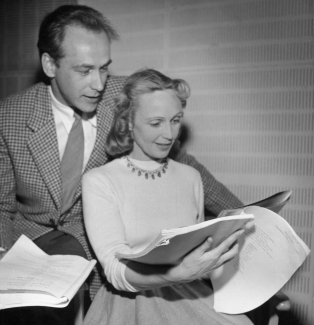 About the production
Produced for Swedish Radio Malmö. No recordings remain.
Sources
The Ingmar Bergman Archives.
Collaborators
Gertrud Fridh

, Thérèse Tarde

Rune Turesson

, Florent

Georg Årlin

, Hartman

Oscar Ljung

, Gosta

Åke Fridell

, Mr Tarde

Naima Wifstrand

, Mrs Tarde

Nine-Christine Jönsson

, Jeannet

Dagmar Bentzen
Gun Arvidsson
Nils Fritz

, Mr Lebonze

Jean Anouilh

, Author

Stig Torsslow

, Radio adaptation

Ingmar Bergman

, Director

Gustaf Bjurström

, Translation

Tuve-Ambjörn Nyström

, Translation