The Time and the Room
The link to Strindberg was obvious from the start, and in the programme Bergman reprinted Strindberg's brief preface to A Dream Play.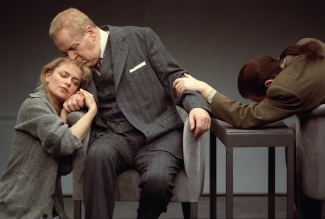 'Time and space do not exist; anything can happen, anything is possible and probable.'

August Strindberg, preface to A Dream Play
About the production
The setting showed a house façade, reminiscent of the opening in several of Strindberg's chamber plays. Reviews were mixed. Several critics found Bergman's interpretation academic and distant, though revealing an intelligent reading of the play. 'The production was only understandable to those who saw the main character, Marie Steuber, as a reincarnation of Indra's daughter in A Dream Play.'
Sources
The Ingmar Bergman Archives.
Birgitta Steene, Ingmar Bergman: A Reference Guide, (Amsterdam University Press, 2005).
Collaborators
Lena Endre

, Marie Steuber

Erland Josephson

, Julius

Per Mattsson

, Olaf

Mats Bergman

, Man without watch

Gerthi Kulle

, The impatient one

Hans Klinga

, Frank Arnold

Marie Richardson

, The sleeper

Björn Granath
Carl-Magnus Dellow
Gerd Hagman
Virpi Pahkinen
Jan Nyman
Johanna Johansson
Ulla Åberg

, Dramaturgy

Bengt Wanselius

, Stills photographer

Botho Strauss

, Author

Tomas Wennerberg

, Stage manager

Anders Dramstad

, Sound technician

Hans Åkesson

, Lightning

Rudi Schuster

, Lightning technician

U2

, Music

Jean Billgren

, Musical arrangement

Leif Qviström

, Make-up and wigs

Eva Ekman

, Make-up and wigs

Sofi Lerström

, Producer

Ingmar Bergman

, Director

Åsa Kalmér

, Assistant director

Stefan Lundgren

, Props

Bengt Larsson

, Master carpenter

Mette Möller

, Designer

Antonia Pyk

, Prompter

Per Erik Wahlund

, Translation