While the City Sleeps
Directed by Lars-Eric Kjellgren, with some input from Ingmar Bergman.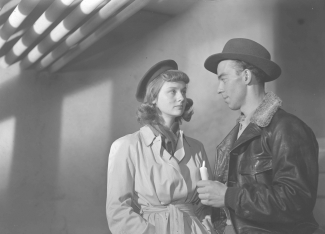 About the film
The screenplay of While the City Sleeps was written by the well-known author Per Anders Fogelström, based on his own novel Ligister (Gang Members). Bergman's contribution was modest, yet did include the development of the principal character in the film, Jompa. While the City Sleeps was Fogelström and Bergman's first collaboration; their second (and final) partnership came two years later with Summer with Monika.
Sources
The Ingmar Bergman Archives.
Distribution titles
Kun kaupunki nukkuu (Finland)
Medan staden sover (Norway)
Mentre la città dorme (Italy)
Når Stockholm sover (Denmark)
När staden sover (Finland)
Production details
Production country: Sweden
Production company: AB Svensk Filmindustri
Swedish distributor (35 mm): 1994 Stiftelsen Svenska Filminstitutet 
Swedish distributor (35 mm):AB Svensk Filmindustri
Laboratory: AB Svensk Filmindustris filmlaboratorium 

Aspect ratio: 1,37:1
Colour system: Black and white
Sound system: AGA-Baltic
Original length (minutes): 102
Length: 2785 metres
Music
Title: Boogie Woogie (Larsson)   
Composer: Walter Larsson 
Comment: Instrumental. 

Title: Tesselation   
Composer: Gösta Theselius 
Comment: Instrumental.

Title: Preludium and fuga, organ, BWV 544, h-minor  
Composer: Johann Sebastian Bach 
Comment: Instrumental.

Title: Guldgrävarsången   
Lyrics: Fredrik Bloom 
Singer: Arne Ragneborn 
Singer: Lennart Lundh 
Singer: Åke Hylén  

Title: Boogie Woogie (Hylén)   
Composer: Åke Hylén 
Instrumentalist: Åke Hylén (piano) 

Title: Helan går   
Singer: Åke Hylén 
Singer: Arne Ragneborn 
Singer: Hans Dahlberg 

Title: Du gamla, du fria   
Lyrics: Richard Dybeck (1844)
Comment: Instrumental.

Title: Beguine (Österwall)   
Composer: Arthur Österwall 
Instrumental. 

Title: Rolf's Idea   
Composer: Rolf Blomquist 
Comment: Instrumental.

Title: Santa Lucia   
Composer: Teodoro Cottrau (1850/51)
Lyrics: Teodoro Cottrau (Italian lyrics 1850/51)
Lyrics: Arvid Rosén (Swedish lyrics "Natten går tunga fjät")
Lyrics: Sigrid Elmblad (Swedish lyrics "Sankta Lucia, ljusklara hägring")
Singer: kör (flickkör) 

Title: Staffansvisan   
Singer: kör (girls choir)

Title: När gäddorna leker i vikar och vass   
Singer: Elof Ahrle, Adolf Jahr, Alf Östlund, Walter Sarmell, Birger Lensander  

Title: Beguine (Eckert-Lundin)   
Composer: Eskil Eckert-Lundin 
Instrumentalist: Åke Hylén (piano)
Collaborators
Eskil Eckert-Lundin
Sven-Eric Gamble

, John, known as Jompa, gangleader

Inga Landgré

, Iris Lindström, Jompa's girlfriend

Adolf Jahr

, Iris' father

Elof Ahrle

, Foreman at Svea car service

John Elfström

, Jompa's father

Hilding Gavle

, Fence

Carl Ström

, Hansson, caretaker

Ulf Palme

, Kalle Lund, criminal

Barbro Hiort af Ornäs

, Rutan, Kalle's friend

Märta Dorff

, Greta, Iris' mother

Ilse-Nore Tromm

, Jompa's mother

Ulla Smidje

, Jompa's sister

Hans Sundberg

, Knatten Gustafsson, gangmember

Arne Ragneborn

, Richard "Sune" Sundberg, gangmember

Lennart Lundh

, Gunnar "Slampen" Lindström, Iris's brother and gangmember

Hans Dahlberg

, Sven Erik "Lång-Sam" Samuelsson, gangmember

Åke Hylén

, Per "Pekå" Knutsson, gangmember

Ebba Flygare

, The fence's wife

Olav Riégo

, The district judge

Börje Mellvig

, The prosecutor

Harriet Andersson

, Elsie, one of the gang's girlfriends

Mona Geijer-Falkner

, Matron of recreation centre

Alf Östlund

, Worker at Svea car service

Birger Lensander

, Worker at Svea car service

Walter Sarmell

, Worker at Svea car service

Arthur Fischer

, Policeman

Gustaf Hedberg

, Chief constable on duty

Ingemar Jacobsson

, Policeman

Gunnar Johansson

, Policeman

Gunnar Hellström

, Dancing patron

John Zacharias

, The reporter

Arthur Österwall

, The band leader

Hanny Schedin

, Woman with child in the street

Marianne Hylén

, Nurse

Rolf Bergström

, Jompa's sister's boyfriend

Mona Åstrand

, Iris and Elsie's friend

Olle Teimert

, Olle, Jompa's brother

Meta Velander

, Waitress

Kerstin Wibom

, Dancing patron

Henrik Schildt

, Worker at Svea car service (deleted scenes)

Georg Skarstedt

, A drunk (deleted scenes)

Nils Svenwall

, Art Director

Bengt Järnmark

, First Assistant Cameraman

Rune J:son Berg

, Boom Operator

Martin Bodin

, Director of Photography

Alva Lundin

, Titles

Gösta Ström

, Unit Manager

Gustav Roger

, Unit Manager

Oscar Rosander

, Film Editor

Lennart Unnerstad

, Production Mixer

Per Anders Fogelström

, Screenplay

Sven Persson

, Re-recording Mixer

Stig Rybrant

, Music Composer

Julius Jacobsen

, Musical Arrangement

Lars Gullin

, Musical Arrangement

Seymour Österwalls orkester

, Orchestra

Helge Hagerman

, Production Manager / Production Coordinator

Lars-Eric Kjellgren

, Director

Hugo Bolander

, Assistant Director

Ingegerd Ericsson

, Script Supervisor

Louis Huch

, Still Photographer

Ingmar Bergman

, Idea